Due to high traffic in Iran's metropolises, officials in major cities such as Tehran, Isfahan, Shiraz and Mashhad have made subway construction a priority. Shiraz is one of the cities in Iran that attracts a lot of tourists every year and this issue has caused traffic. If you want to experience trip to Shiraz , this article is from Read Alibaba Tourism Magazine for complete information about the map, lines and cost of Shiraz metro tickets.
In addition, it is possible for you to download the high quality map of Shiraz metro in this article.
Shiraz Metro is active on non-holidays 6 to 21 and holidays 7 to 21.
Only metro line 1 of this city is active and this line takes passengers from the airport to Ehsan Bridge.
A limited parking lot is provided at the end of line 2.
Get acquainted with Shiraz metro map
Shiraz is one of the metropolises of Iran and due to being a tourist, the authorities decided to launch the metro of this beautiful city. The Shiraz and Suburbs Urban Train Organization is in charge of building this project and is still expanding it. After Tehran Metro and Mashhad Metro, this city has the third city train in Iran.
Shiraz Metro has the longest metro line after Tehran and is expected to carry 200 million passengers annually once fully operational. The city's metro line 1 is now fully operational and has 20 stations. With this line, passengers can travel from Ehsan station to Shahid Dastgheib.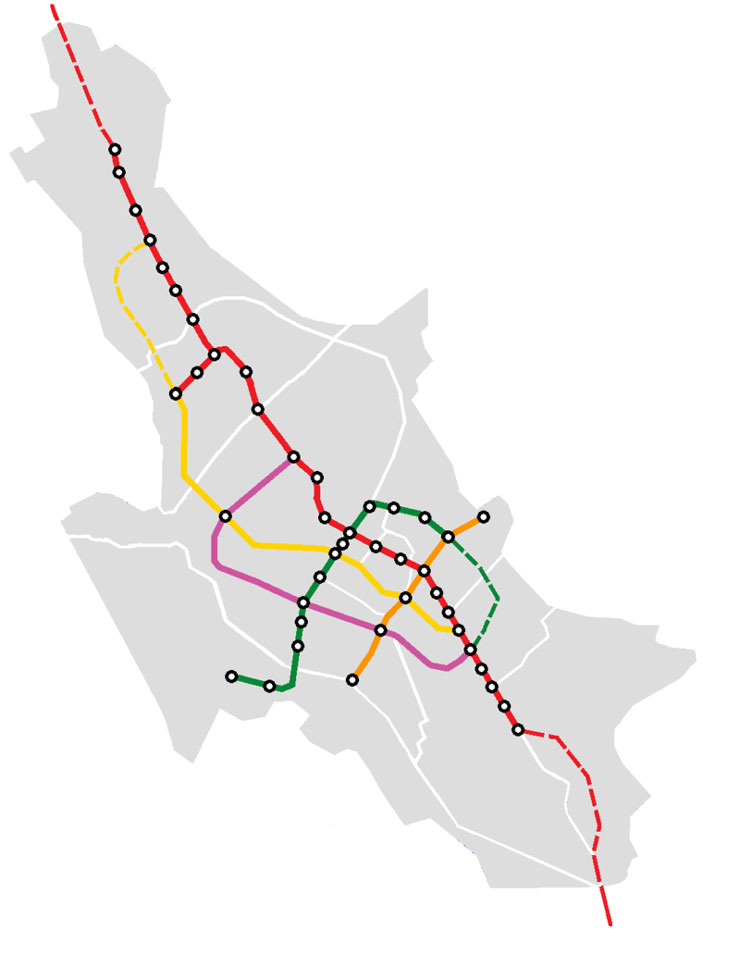 Shiraz metro line 1 construction project It started in 2002 from the west side of this city. The first phase of this line started its work in 2014 with the presence of the first vice president and a number of provincial officials. It did not take more than 3 years for the second phase to open. It was August 22, 2017 that the second phase of Metro Line 1 was launched. When you take this line, you can go from Ehsan Bridge to Golsorkh Square.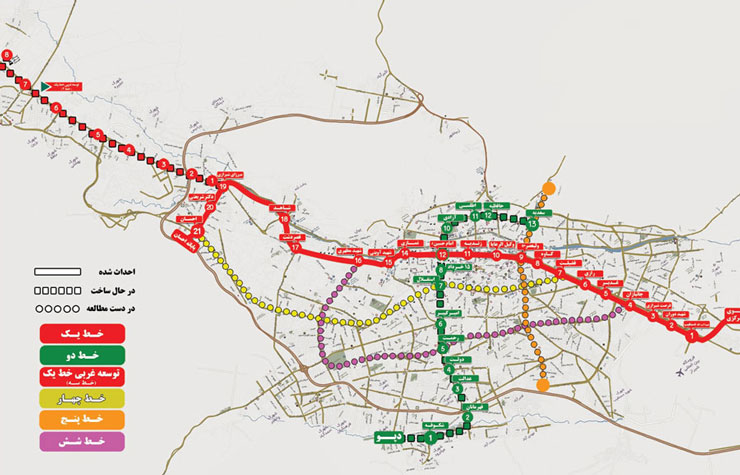 According to IRNA, Shiraz city train services are active on non-holidays 6 to 21 and holidays 7 to 21 Is. Hamid Jorkesh also stated that wearing a mask is mandatory when using Shiraz Metro services.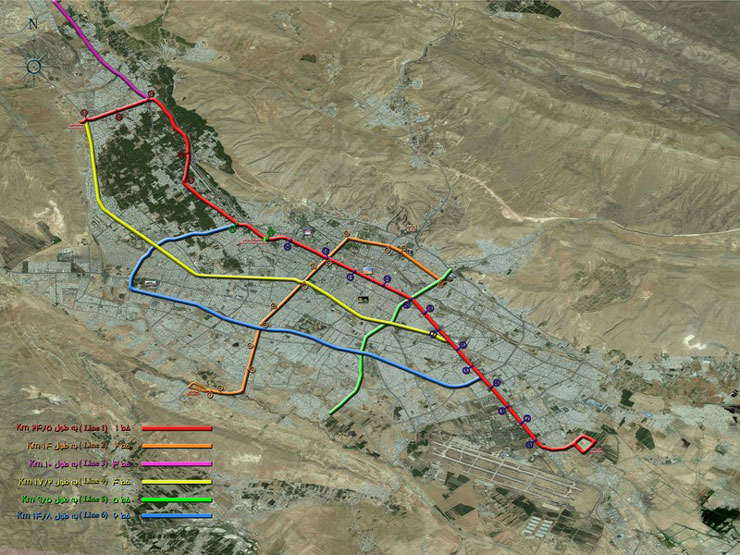 Shiraz metro has a total of 6 lines, which will be 93.3 km in total. Currently, only line 1 of the city train is activated and lines 2 and 3 are under construction. Of course, engineers are studying the rest of the Shiraz metro lines.
Map and lines of Shiraz metro
As mentioned, only Metro Line 1 in this city is active and the rest of the lines are under construction. In the following, we will provide you with information about all Shiraz metro lines.
Shiraz Metro Line 1: Ehsan Bridge – Airport
This line is 24.5 km long and transports passengers from the east of Shiraz to the west of Shiraz. On the map of Shiraz metro, line 1 has a red color and its 21 stations are shown. This line is capable of carrying 10,000 passengers in one hour! 20 stations have been built from Shiraz metro line 1 underground and one of them on the ground. During peak passenger times, Shiraz Metro travels 2 stations in 12 minutes and at normal times 15 minutes.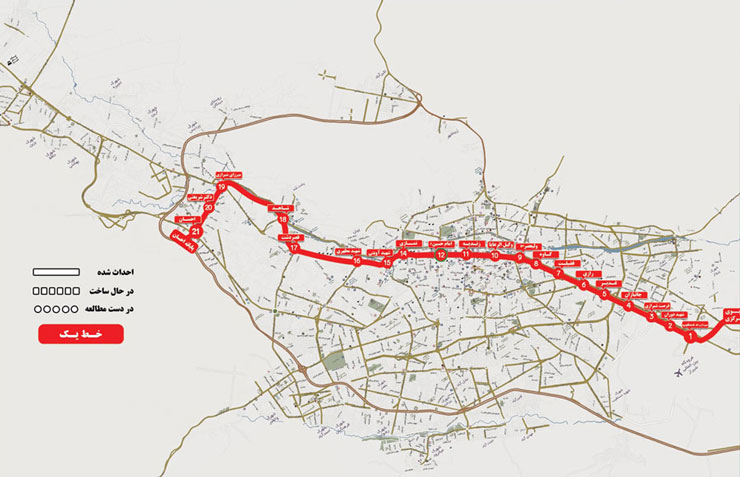 Station Stations 1:
Shahid Dastgheib
Shahid Doran
Shirazi Opportunity
Veterans
Ghadir
Secret
virtue
Kaveh
Valiasr
Vakil al-Ruaya
Zandieh
Imam Hussein Square
Prayer
Afifabad
Shahid Motahari
Qasrdasht Square
Witness
Mirza Shirazi
Shariati
Ehsan
Shiraz Metro Line 2: Mianroud – Saadi Cottage
Construction of this line started in 1390 and has not been put into operation yet. Line 2 is supposed to take passengers to the northeast of Shiraz, 15.1 km from the southwest. This line will eventually reach Hafezieh and Saadiyeh, and no doubt after launching one of The most important metro lines will be Shiraz. In Shiraz metro map, you can follow line 2 with green lines.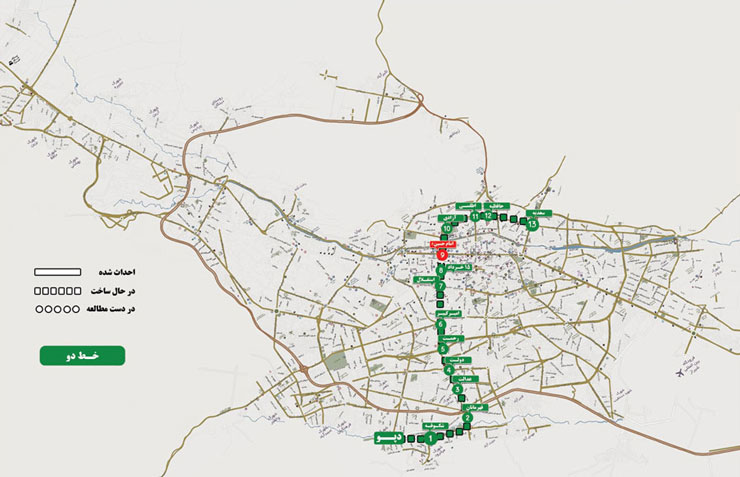 Line 2 stations:
blooms
Heroes
Justice
government
Mercy
Amir Kabir
Independence
June 15
Imam Hussein
Freedom
Atlas
Memory
saadie
Shiraz Metro Line 3: Ma'ali Abad Bridge – Sadra City
This line is actually the western development of Line 1, which is going to start its activities with a lot of studies and selection of stations. The line is about 12 km long and 8 stations are expected to be built for it. Construction of this project began in 1399. When you see the map of Shiraz metro, you can see line 3 in red. The line is expected to carry 1,800 passengers in 1 hour.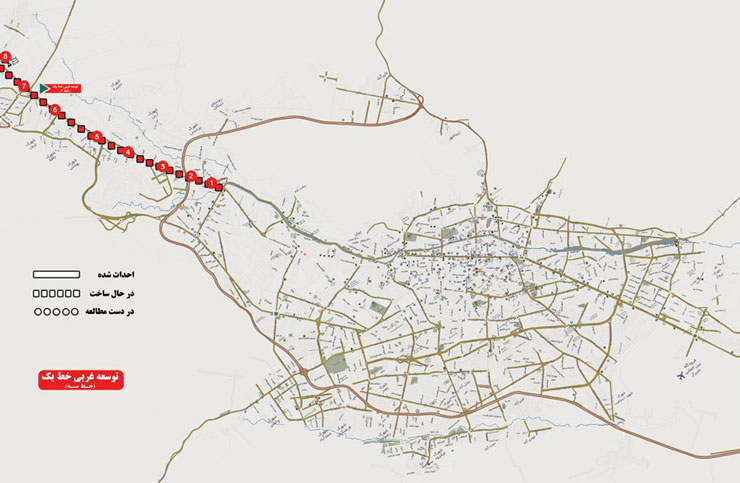 Line 3 stations:
Mirza Shirazi
Dr. Hesabi
Shahid Beheshti Town
Hafez Town
Bazin
Esteghlal Town
Golestan city
Shiraz Railway Station
Shiraz Metro Line 4: Ehsan Bridge – Modares Boulevard
This line, like other Shiraz metro lines, has not been commissioned yet and is supposed to be about 17 km long. Line 4 of Shiraz metro starts from Ehsan bridge and finally reaches Modares boulevard. Construction of the line has not yet begun, and engineers are studying to choose the best route to build it.
This line will be connected to lines 1, 2, 3, 5, and 6. In the map of Shiraz metro, line 4 is shown in yellow, and since the study of this line has not been completed yet, the names of the stations are not known, although some of the stations on this line are as follows:
Pol Ehsan
Shahid Rajaei
Pasdaran
armor
Independence
Eastern Mushir
Old Mushir
Siboi
Al-Zahra

Line 5 of Shiraz Metro: Kushk Maidan
Engineers have stated that the length of this line is 10 km, which will go from north to south of Shiraz. Officials are still working on Line 5 and construction will begin when the studies are completed. This line can be seen in the map of Shiraz metro in orange.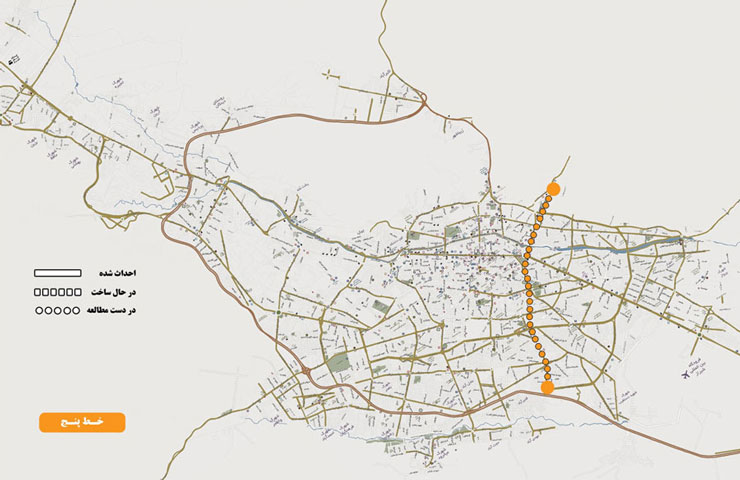 station 5:
Saadie
Park
Salman Farsi
Zeinabia
Heaven
Nawab Safavid
Shiraz Metro Line 6: Zargari – Modares
This line is 15 km long and connects the east of Shiraz to the west with 14 stations. Line 6 is displayed in purple on the Shiraz metro map and lines 1, 2, 4 and 5 are related.
Line 6 Stations:
Motahari
Kill the neighborhood
Paradise Park
Meysam
Master of Farashbandi
Mercy
Pottery Square
Ghadir Bridge

Shiraz Metro Ticket
The entrance fee to Shiraz metro is 600 Tomans and for the distance traveled, the cost is deducted from the card. The variable costs of this service are as follows:
From 0 to 2.5 km: 200 Tomans
From 2.5 to 5 km: 300 Tomans
From 5 to 8 km: 400 Tomans
From 8 to 11 km: 500 Tomans
From 11 to 15 km: 550 Tomans
From 15 to 19 km: 600 Tomans
From 19 to 22.58 km: 650 Tomans
If a passenger does not pay for the ticket at the end of the trip, the amount of 1000 Tomans will be deducted from his card balance on subsequent trips.

Was there enough information about Shiraz metro?
As mentioned, Shiraz Metro has the longest railway line in the country after Tehran Metro. It was October 10, 2014 that the first deputy chairman traveled to Shiraz to inaugurate the first phase of the city train, and now Line 1 is fully operational.
This metro has equipped wagons and transports about 10,000 passengers between different stations in 1 hour. If you have taken the Shiraz metro, we would be happy for you to share your thoughts with us.