ٌWhen the name of the holy city of Mashhad is mentioned, it reminds us all of the royal court of Imam Raouf Imam Reza (AS). Mashhad has long been one of the best tourist centers in the country, but in ancient times, the city was considered only by pilgrims and tourists. But today, Mashhad's recreational places are not limited to the holy shrine of the Eighth Imam, and Mashhad sights in terms of recreation, entertainment and Tourism has made significant progress to the point that this city is one of the best cities in the country in the tourism industry.
Vakilabad Forest Park, Mellat Park, Kuhsangi Park, Mashhad National Park
Torqabeh, Kuhistan Park Amusement Park, Akhlamad Waterfall, Jam Jam Paintball, Ershad Equestrian Club, Shirbad Ski Slope, Mashhad Bird Garden, Chalidreh, Vakilabad Zoo
Land of Blue Waves, Sunshine Beach Park, Land of Roaring Waves, Iranian Water Park
Shirbad Ski Resort, Carland, Mashhad Helium Park, Panda Club Cultural and Sports Complex, Padideh Shandiz Recreation Complex, Happyland Amusement Park, Wonderland, East Diamond Shopping Center, Farang Shahr 3D Gallery of Iran
1- Mashhad water parks
Mashhad has various Wahhabi parks that make traveling to this city more exciting. Each of these parks has different facilities, services and of course prices.
– Land of Blue Waves
Land of Blue Waves was opened in 1999. This complex is very large and large, the size of a small town. With an area of ​​about 8500 square meters and infrastructure equivalent to 23 thousand square meters, which is the first and largest water park in Iran.
Also, this water park, which is one of the best amusement places in Mashhad, is one of the largest indoor water parks in the Middle East. In this fun blue place, you can see every slide model you can think of.
Water Wave Land features include slow slides, torsional slides, wave slide, Tuiser slide, Topsi slide, space hole, calm and roaring river, pond pool, children's pool, water park wave pool, hot and cold jacuzzi , Steam and sauna, Turkish massage and bath, sports equipment store, restaurant and coffee shop.
If you are planning to go to the land of water waves, you need to know that even days for women and single days are reserved for men to visit this great water park.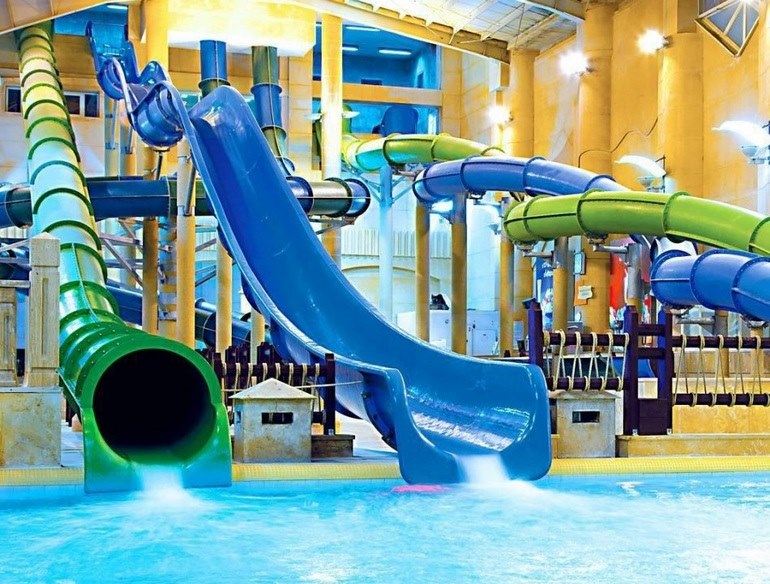 Address: Mashhad, Asian Highway, Qasem Abad (West Town), Blvd. Thought, Corner of Thought 83, Land of Blue Waves
– Iranian Water Park
The size of the Iranian Water Park in Mashhad is approximately 14 football fields. This is what makes this amazing collection, made by a reputable Canadian company, unique.
The creators of this beautiful complex, which has 40 years of experience in designing water parks in the world, have tried to use various and exciting facilities to make this building different from other water parks. Undoubtedly, this park is an important part of Mashhad's recreational places.
Mashhad Iranian Water Park has a variety of facilities and entertainment that can be 25-meter spiral slides, space holes, slow slides, speed slides, rainbow slides, roaring river, wave pool, water skiing , Dry and Steam Sauna, Baby Slide, Jacuzzi, Cold Water Pool, Coffee Shop, Restaurant, Gym, Massage Room, 5D Cinema, Turkish Bath, Space Shuttle and Panic Sled.
If you are planning to use this beautiful blue collection, you should know that men can use this collection on odd days and Fridays from 9 to 21 and women on even days from 9 to 21.

Address: Mashhad, Hijab Boulevard, corner of Hijab 8
– Aftab Beach Park
Aftab Beach Park Cultural and Sports Complex was inaugurated in 2011 near Spad International Market and Almas Shargh Commercial Complex, with an area of ​​about 15,000 square meters. This complex is one of the largest multi-storey water parks in the world in terms of infrastructure and number of floors.
Aftab Beach Park in Mashhad, which is one of the most unique recreational places in Mashhad, operates in three sections:
Women's section
Including swimming pool, steam and dry sauna, jacuzzi, sand sauna, sea salt pool, screw slides, speed slides, sunbathing, yoga, aerobics room, massage parlor, gym, children's room, children's play area, coffee shop and It is fast food.
Special section (VIP)
Attractive space with first-class and special facilities includes standard swimming pool, sea salt pool, salt cave, gym, traditional bath, sauna and Jacuzzi, relaxation room, traditional teahouse, massage parlor, coffee shop and fast food.
Gentlemen's Water Park Collection
This complex includes standard swimming pool, dry sauna, steam sauna, jacuzzi, massage and also in the exciting water park with various facilities such as wave pool, roaring river, space hole, speed and slow slide, twin slide, fall slide It is free with a height of 20 meters, slides for children, a spring of boiling water, a special diving pool with a natural space for recreational and educational use and other parts.
It also offers training classes such as public and private swimming lessons for different ages, rhythmic swimming lessons and lifeguard classes and diving lessons.
Address: Mashhad, North Khayyam Boulevard, Baharestan Square, next to East Diamond
– Roaring Waves
This huge complex is the newest water park in Mashhad, which was opened in 2015 at km 2 of Shandiz Road. The Roaring Waves Land Recreation Complex, which officials say is the world's largest indoor water complex, covers an area of ​​about 60,000 square meters. In addition to its very large space, it has bought all its recreational equipment from one of the most reputable recreational equipment manufacturing companies in the world.
One of the most important features of this large water park is that it welcomes men and women at the same time, and all family members can use its unique facilities in two separate sections for men and women, and have a pleasant memory in one of the best amusement places. Mashhad figure.
The men's section, which is about 30,000 meters, can accommodate more than 11,000 people simultaneously, and the women's section has a capacity of 7,000 people in an area of ​​28,000 square meters.
Each part of the water parks has roaring waves in the men's and women's sections at a height of about 40 meters, which has made the parks of the series of free fall slides and multiple speeds and can have the exciting experience of descending from such a height for Bring tourists to one of the best recreational places in Mashhad.
Facilities of the land of roaring waves in Mashhad
There are more than 30 exciting slides in the men's section and 25 slides in the women's section. Also the longest rippling river in the country, the largest turbulent lake in the Middle East, swimming pool, dry sauna and steam sauna, the longest indoor zip line in the world, the largest fish spa in the Middle East, laser tag, advanced massage salon, salt cave, trampoline, restaurant, coffee shop and other Features of this collection.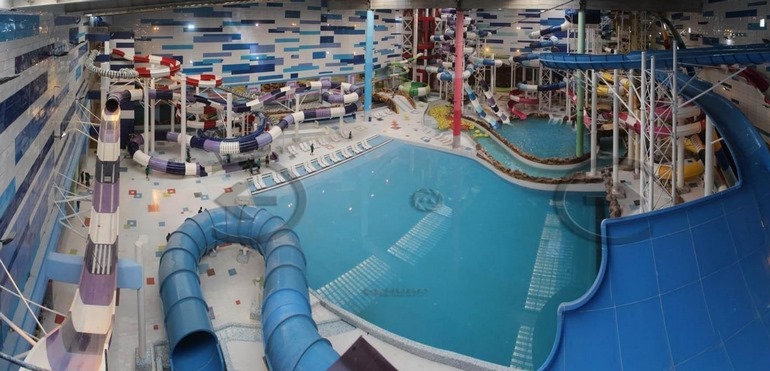 2- Mashhad Paintball Clubs
One of the most exciting competitive and fun group games is paintball. In this game, players are divided into two groups and try to target the players of the opposing team with colored bullets and finally eliminate them, which is accompanied by indescribable excitement and adventure.
– Paintball Jam
The largest paintball field and one of the recreational places of Mashhad, belongs to the paintball club of Persian Jamjam sports complex. This club has an area of ​​2800 meters.
Initially, people are given basic training to get acquainted with the game, as well as special clothing, masks, vests, weapons and bullets are other features of the game that are provided to participants. It is possible for men and women to play at the same time in this series.
Features of Mashhad Jamjam Paintball Club include free admission, free parking, special clothing, mask, bulletproof vest, gloves, hat and handkerchief, family fun space, coffee shop, pre-arranged filming and free karting for members The team named. The karting of the complex has special and open sandy ground and 5000 meters of space.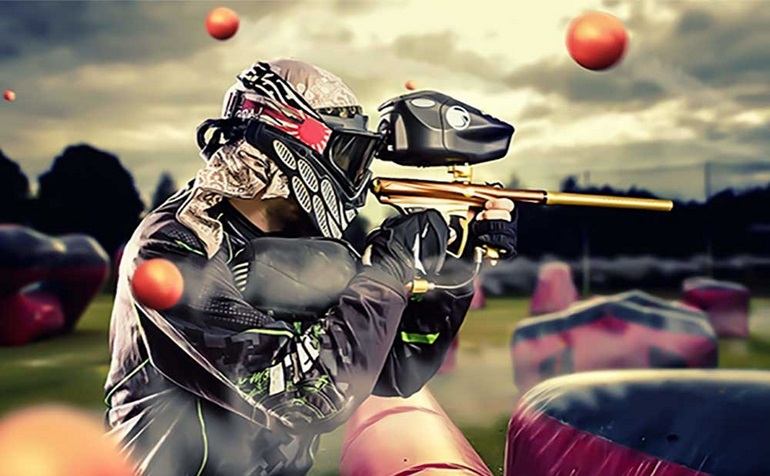 Address: Mashhad at the beginning of Shandiz Road
– Paintball Hotel Samen
Paintball Club of Mashhad is located at the end of Vakilabad Boulevard of this city in Imam Reza Street and in Samen Hotel, which in addition to paintball, beach volleyball sports facilities are also available in this place.
Samen Hotel Paintball in Mashhad has standard obstacles that make the game more exciting and adventurous. In paintball, usually 8 teams of 8 people face each other according to the conditions and position of the playing field and the different rules and regulations that exist
This club, which is considered as a recreational place in Mashhad, includes facilities such as a car park, a special locker room, a card reader, a celebration of colored bullets in the sky, and standard obstacles for both men and women. They can be present in the game.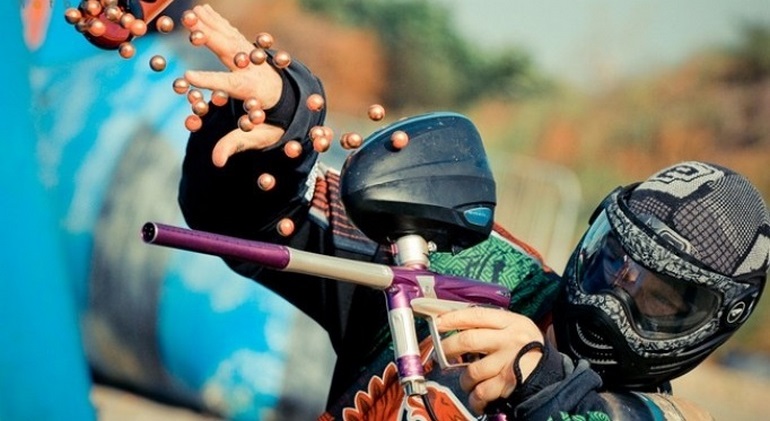 Address: Mashhad, end of Vakilabad, Imam Reza 2, Samen Hotel, Mashhad
– Paintball Shot X
Mashhad Shot X Paintball Club is located in Qasemabad neighborhood, at the beginning of Hijab Boulevard and next to the 8th water complex.
This complex is one of the largest indoor paintball complexes in the east of the country and is considered one of the recreational places of Mashhad. It has suitable facilities such as buffet, card reader, private parking, coffee shop with hot and cold menu and rest and recovery place to prepare for the game. .
Also in this series of free tutorials on how to use weapons and game rules, use fan obstacles and standard and natural arrangement according to the latest method, standard bullets, if necessary, use the cooling and heating system to maximize the fun of the game. , Using the best double-walled masks to prevent the mask from sweating and using a 4000 watt sound system to increase the excitement of the game as much as possible.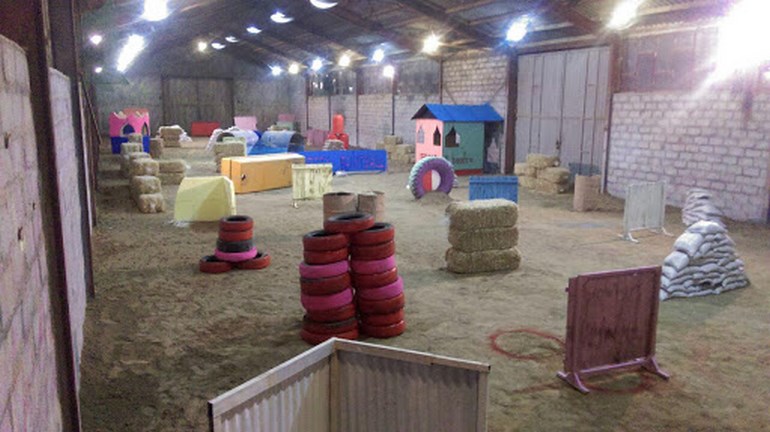 Address: Mashhad, Qasemabad, at the beginning of Hijab Boulevard, in front of Hijab 1, next to the 8th water complex
3- Mashhad Equestrian Clubs
Equestrianism is one of the sports that has received a lot of attention in recent years, although this ancient sport has a long history and can be considered as one of the oldest sports.
This sport today, in addition to being a sport and competition, but also as a hobby and entertainment and leisure is considered by many people. Also, despite being a costly sport, it attracts a large number of people each year.
– Ershad Equestrian Club
This equestrian club, which in addition to horseback riding, provides other sports and entertainment for the general public and enthusiasts, is located in the Ershad Cultural-Sports Complex at the end of Vakilabad Boulevard at the Torqabeh Shandiz crossroads.
Ershad Equestrian Club of Mashhad, which is considered as one of the recreational places of Mashhad due to its attractive environment, provides the desired services to the interested parties in the best possible way. The club stables are always open to the public and tourists, and all travelers and enthusiasts can visit the horses, feed them, and take pictures with the horses.
Other fun features include skating rink, volleyball court, go-kart track and equestrian court.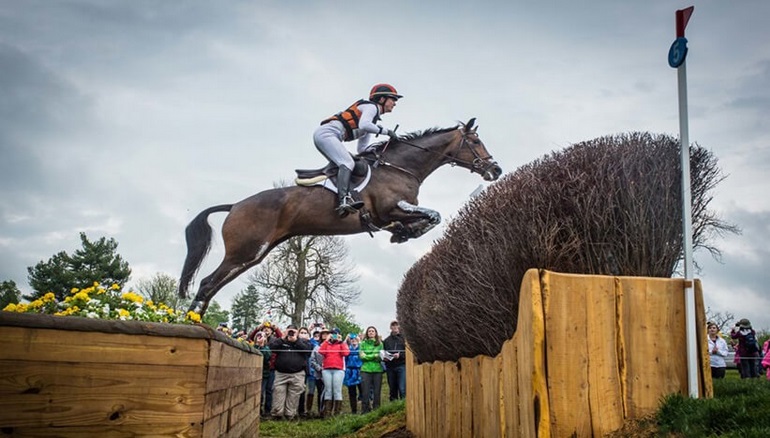 Address: Mashhad, at the end of Vakilabad Boulevard, not far from Torqabeh Shandiz crossroads, right
– Kashani Equestrian Club
Kashani Equestrian Club of Mashhad is considered one of the recreational places of Mashhad due to its beautiful and attractive environment. This club, which is located in a beautiful village on an 8-hectare land, was built in 2000. The facilities of this equestrian club include two stables, a paddock, a race mane, a training mane and a buffet.
In this club, before using horses, people are taught by both male and female trainers and learn the necessary techniques for riding and jumping.
In addition to horseback riding, the club also organizes group horseback tours all year round; So that those who are interested can ride in both the green plains of the region and in the snow-covered plains and enjoy nature enough.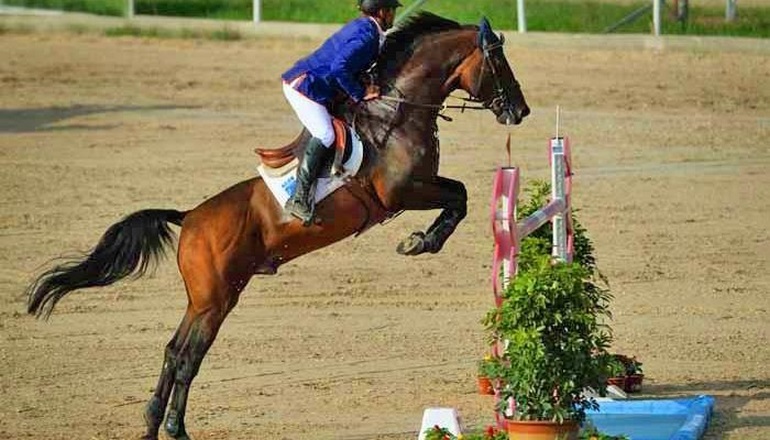 Address: Mashhad , 20 km from Mashhad road, Kalat to Kardeh dam of Moinabad village
– Ferdowsi Equestrian Club
If you are planning to travel to Mashhad and have not experienced equestrianism yet, we suggest that you try this fascinating sport once and for all, after this experience you will most likely love equestrianism and be attracted to this sport. شد. P>
In Ferdowsi Equestrian Club of Mashhad, which is one of the recreational places of Mashhad, all conditions and facilities have been provided so that you can learn and enjoy equestrianism.
In this club, it has provided a completely suitable and family environment for equestrian enthusiasts. All interested people of all ages, from children to adults, can experience any style of training from beginner to advanced or even horse jumping and equestrian training.
Pony Park is another facility of this equestrian club where children can interact with small horses, feed them or even ride them.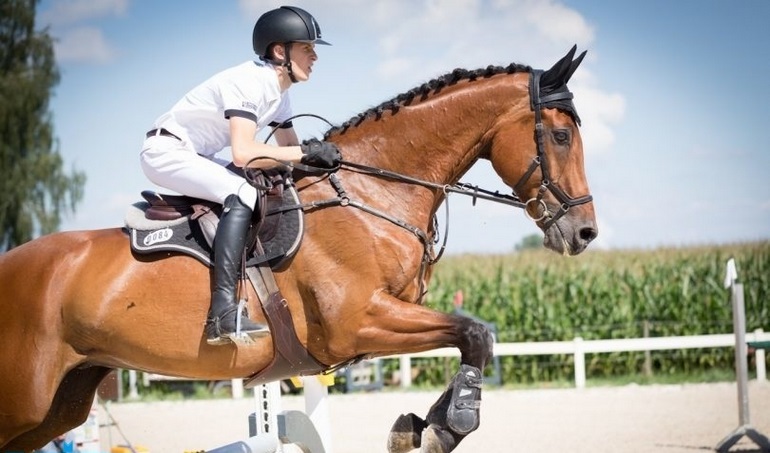 Address: Mashhad, three ways Froudosi, next to Taleghani Hospital
4- Recreation in nature and parks of Mashhad
Mashhad, in addition to countless facilities that make it one of the most attractive tourist cities in the country, has unique nature and beautiful and pleasant parks that travelers and tourists of this city can visit these pure and spectacular places to create beautiful memories for themselves. And double the pleasure of your trip to this city.
– Torghabeh
Undoubtedly, Torqabeh is one of the most beautiful and scenic natural tourism places and one of the best recreational places in Mashhad. This beautiful mountainous city is located 16 km away from Mashhad and at the foot of Binalood mountains.
Torqabeh region is famous for its various tourist and historical attractions and of course its very good and clean climate due to its villages and pleasant summers. It is also known for its beautiful hills and cool summer nights.
The city of Torqabeh is a good place for weekend entertainment and family outings, and it has a lot of leisure and tourism facilities, which has made it very popular.
This temperate region, in addition to large and lush gardens and abundant garden products such as apples and cherries, many fresh water springs that come out of the heart of nature in every corner and has beautiful and scenic rivers. Most of the natives of this region are engaged in agriculture and cultivation of flowers.
Among the delicious and unique dishes of Torqabeh, which in turn are not found anywhere else, we can mention the kebab of Shishlik, Daisy, Sheleh, Fosanjan, Ashkeneh or the same as Kolejoojosh and all kinds of crumbs.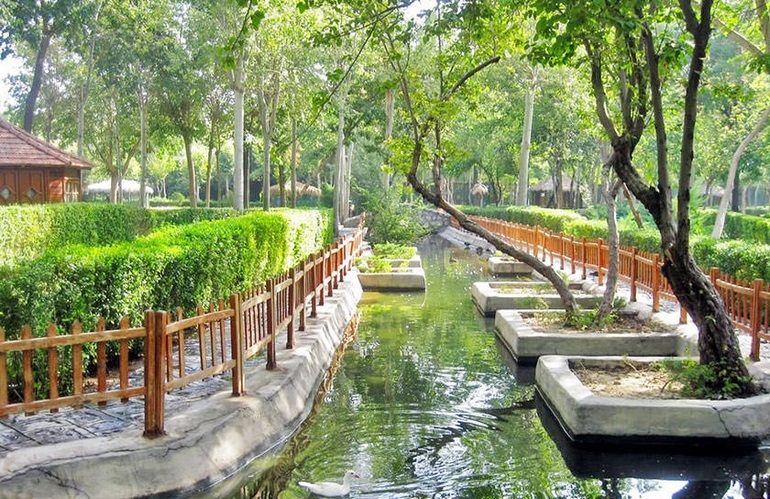 Address: Mashhad, Torqabeh city
– Mashhad National Park
Another recreational place in Mashhad is the Mashhad National Park, which is very old and beautiful. This park was handed over to Mashhad Municipality in 1345 and before that it belonged to Haj Hossein Malek. This old park is located in the center of Mashhad.
This park is located right next to Arg Street, known as Imam Khomeini Street. Also, the water passage of Roknabad aqueduct passes through the heart of this park. One of the reasons for the fame of the National Garden is the old Roknabad aqueduct.
Mashhad National Park is open to the public 24 hours a day, which is one of its highlights. Jannat Bazaar is another advantage of this park and you can get rid of the tiredness of a day of walking and shopping by relaxing in this garden. The garden also has space for children to play. Statues of famous people of science, literature and mysticism can also be seen in a part of the park.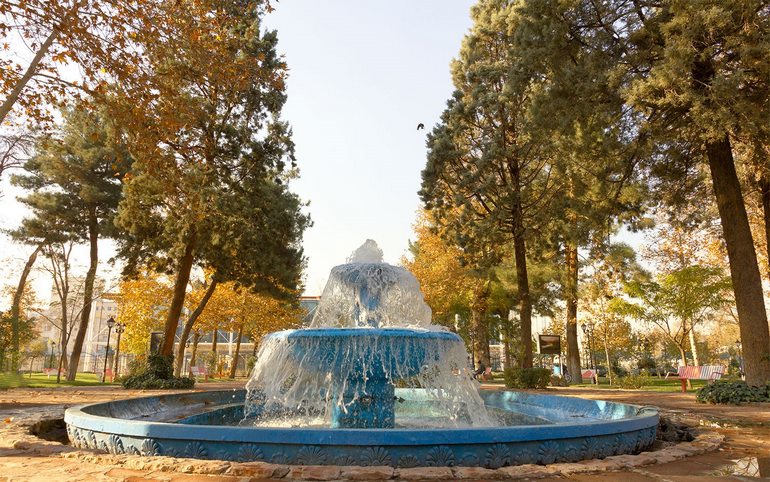 Mashhad National Garden is located in one of the busiest commercial and residential centers in Mashhad. But its address is very convenient and it is enough to ask the address of Jannat market. It is located directly in front of Jannat Street.
– Mashhad Nation Park
Mashhad Nation Park is one of the best and most spectacular places of entertainment in Mashhad. This very large and beautiful park has about 35,000 old trees in an area of ​​720,000 square meters. The park also has a beautiful lake inside.
In the local people of Mashhad, this place is called Park Square, which is due to its proximity to Mellat Park from ancient times.
Access to this park is possible from anywhere in Mashhad. On the sides of the park is the Azadi bus terminal, which is the origin and destination of many bus lines. This area also has a metro station, and people who want to go to Mellat Park by subway must get off at Mellat Park station.
There are also sports fields in this park. The outdoor pool of this park with an area of ​​1250 square meters is the largest outdoor pool in Mashhad. There are also other sports facilities such as a football pitch, a volleyball court, a basketball court, a table tennis table and a running track around the park.
The park also has a large and exciting amusement park. There are numerous playground equipment such as scooters, skateboards, space acrojets, aerial trains, top spins, swings, sleds, somersaults, horror, twin ships, fireballs, space chairs and tornadoes. Hot and cold snacks are also available at the entrance to the Coffee Shop Park.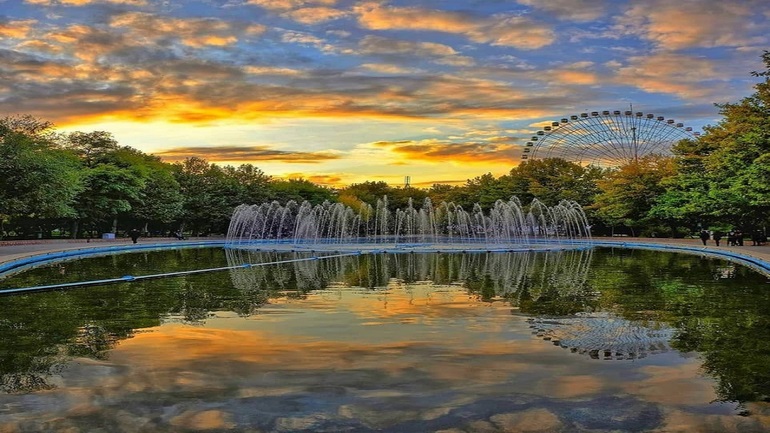 Address: Mashhad, Mellat Park Square
– Kuhsangi Park
The beautiful Kuhsangi Park is the second largest park in Mashhad after Mellat Park and of course one of the oldest and most famous sights in Mashhad. So that after the holy shrine of Imam Reza (AS) and the tomb of Ferdowsi, the third place of choice for tourists in this city is Kuhsangi Park.
Kuhsangi refers to two stone mountains overlooking the city and the end of the street of the same name, Kuhsangi Street, is located in the southwest of Mashhad. In this park, you can see all kinds of beauties, lakes, trees, flowers, fish, birds and mountains.
The large pool in this park and the mountain slope, with its beautiful fish from the combination of water along the rocks between the park and its green space, has created very beautiful and spectacular views.
Also, an ascending path is marked at the beginning of the slope and next to the lake, and people can go to the top of the mountain from this path and see the city of Mashhad from this pleasant view.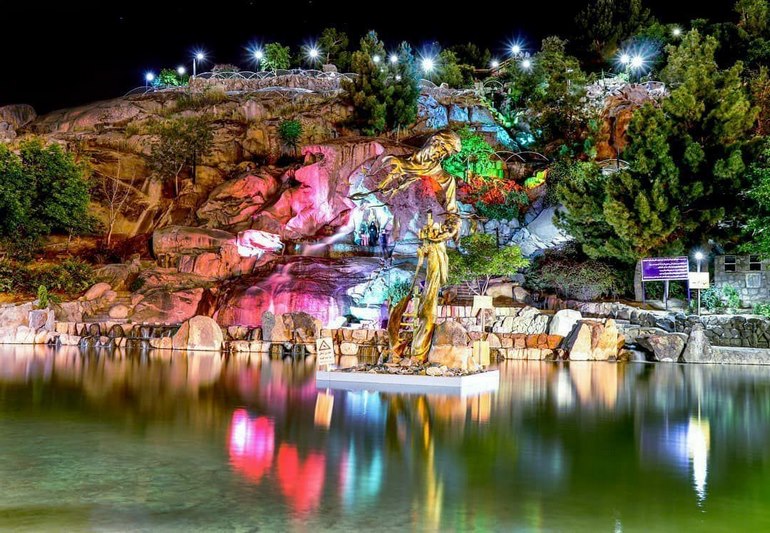 Address: Mashhad. End of Kuhsangi Street, Kuhsangi Park
– Vakilabad Park
Lavar Vakilabad, located eight kilometers northwest of Mashhad, is one of the oldest and largest parks in the city and one of the sights of Mashhad. This park was reconstructed by a person named Hossein Malek Waqf in 1392.
Vakilabad Park is located in a pleasant climate with pine and pomegranate trees and a seasonal river whose water comes from the Vakilabad aqueduct. Also, its many streams have always attracted the attention of locals and tourists.
This beautiful park with an area of ​​259659 square meters, is more like a lush forest garden and is irrigated with aqueduct water. Existence of tall and old trees and a beautiful river that passes through this garden, has made this pleasant climate park known as the summer region of Mashhad.
Also next to this spectacular park is the Vakilabad Zoo, which is home to a variety of wildlife. There is also an exciting amusement park called Mountain Park, which is full of entertainment and games.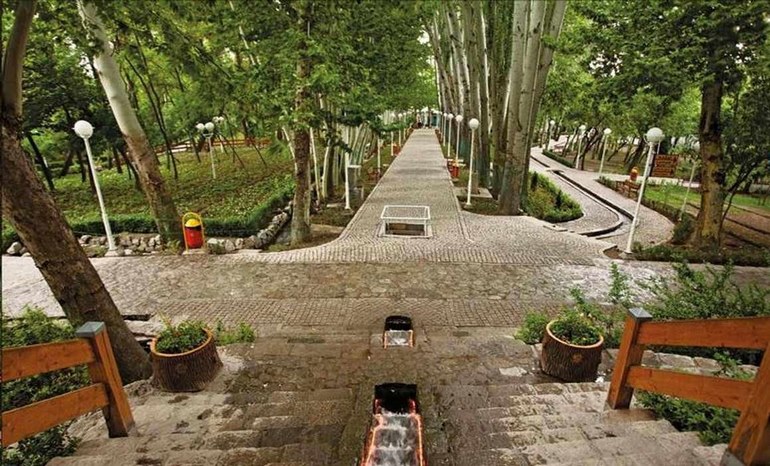 Address: Mashhad, at the end of Vakilabad Boulevard
– Chalidreh of Mashhad
Chalidreh area was added to the list of recreational places in Mashhad in the last decade. This promenade has various recreational and welfare facilities and has become one of the tourist hubs of Mashhad.
Valleys such as Arghavan valley and Chalidreh valley are located in Torqabeh city. These areas are considered as recreational and scenic places of Mashhad. Chalidreh feeds on the water of the Jagharq River. This valley and river together give extraordinary beauty and charm to this region.
Apart from the beautiful natural landscape, Chalidreh Mashhad also has a very good climate and this issue attracts tourists to this region. This tourist area separates you from the hustle and bustle of a busy day and you can enjoy the tranquility in it.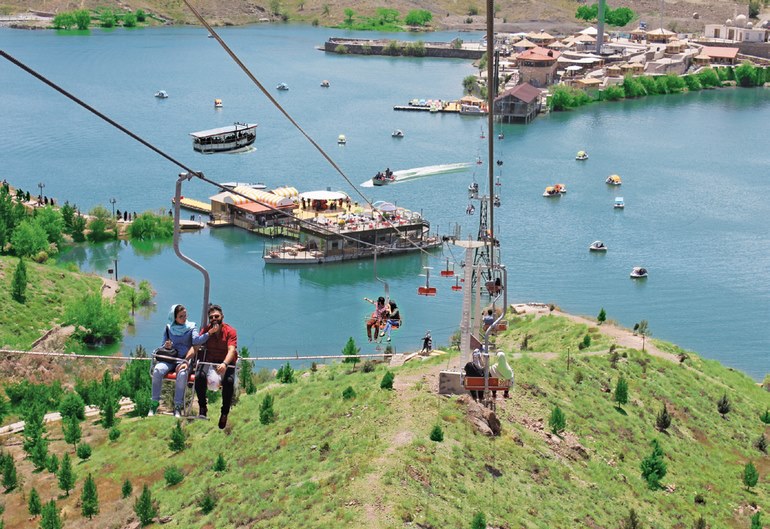 Address: Mashhad, Torqabeh, 2 km of Naqandar Road, Chalidreh
– Vakilabad Zoo
Vakilabad Zoo in Mashhad, built in 1980 with an area of ​​40,000 square meters, is the largest zoo in the country and the first and only zoo in Khorasan Razavi. This large zoo, which houses many diverse animals, is located next to Vakilabad Forest Park and the mountains of Mashhad Park and is one of the best places to see in Mashhad.
Over 850 animals of native, non-native and wild species, including 61 species of mammals, 49 species of birds, 10 species of aquatic animals and 5 species of reptiles are kept in this place.
Types of birds of prey and non-prey, reptiles, carnivorous and herbivorous wild animals such as bears, wolves, hyenas, lions, tigers, leopards, pigs, crocodiles, chimpanzees, boars, snakes, llamas, deer, lynx, rams, deer and Many other animals can be seen in this zoo. Taigones (puppies born from a combination of tiger and lion) are among the rarest animal species of Vakilabad Zoo.
There is also a salon and museum of taxidermy animals in this zoo, which can be very attractive and entertaining for those who are interested.

Address: Mashhad, at the end of Vakilabad Boulevard
– Mashhad Bird Garden
Mashhad Bird Garden, which was built in 2014 and adjacent to the East Diamond Complex, is the first and only bird garden in Khorasan and the east of the country.
In this beautiful and colorful garden, there are more than 700 birds of prey and non-prey and a variety of birds with rare Iranian, Asian and African species that work under the supervision of veterinarians and experts in the field of bird health and are constantly checked for health.
A variety of beautiful birds can be seen in this collection. Large and exciting birds such as ostriches or majestic predators such as eagles, hawks, vultures and vultures, non-hunting and ornamental birds such as peacocks, flamingos, pelicans or parrots, as well as beautiful waterfowl such as black and white swans, ducks and ducks. Birds can be seen in this garden.
In this beautiful complex, which is one of the sights of Mashhad, there is a buffet, food court and restaurant
.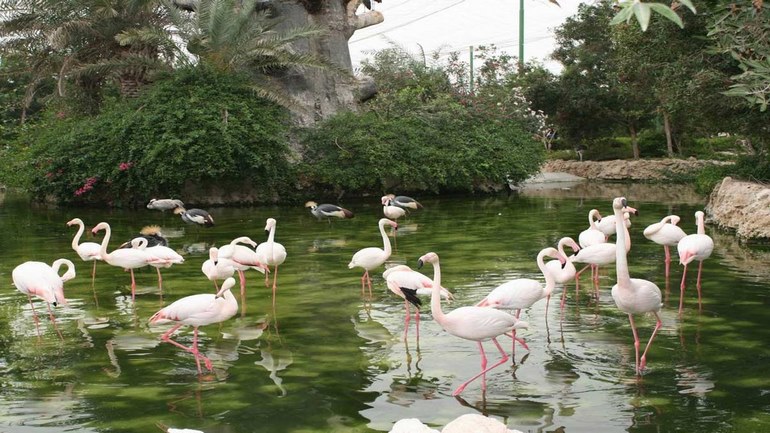 Address: Mashhad, Khayyam Square, Sepad tourist area, next to the East Diamond Complex
5- Mashhad entertainment complexes
These collections are an exciting option for making a unique and ideal day. You can boost your adrenaline rush thanks to their entertainment.
– Sherbad ski slope
Shirbad ski slope, which is one of the most exciting and beautiful recreational places in Mashhad, is located 18 km from Dolatabad village and 38 km from Mashhad and in Golbahar city of Khorasan Razavi.
This beautiful piste, as the first and only ski slope in the east of the country, was opened in 1391 and is located at the peak of Shirbad. Shirbad peak with a height of 3310 meters is the highest peak of Binalood mountain range and the highest heights in the three provinces of South and North Khorasan Razavi, this peak is known as the roof of Khorasan.
Shirbad ski slope can be used for five months from mid-December to mid-April, and is generally snowy in most months of the year. There are also three trails designed for ski enthusiasts, including the Beginners Trail, the Medium Trail Trail and the Trail for Professional Skiers.
The 900-meter-long ski lift lifts enthusiasts to the heights of the peak, and enthusiasts can ski along the 1,200-meter trail. Standard and suitable equipment is provided to all people and also several educational classes are held for learners in this area.
The facilities of this piste include ski lifts, restaurants, coffee shops and accommodation suites in the area.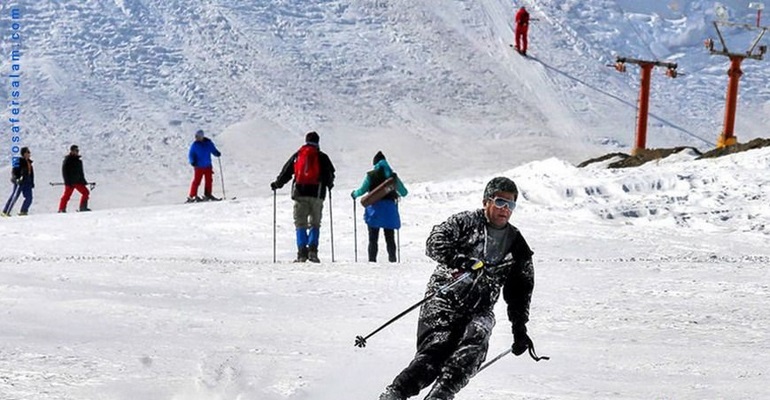 Address: Khorasan Razavi, Mashhad Road, Chenaran, Golmkan roundabout, end of Dolatabad valley.
– Carland
Carland is the city of your children's jobs, jobs that are designed and implemented like what exists in the real world. Carland Jobs is the first educational-entertainment complex in Iran, which offers 21 job titles in the form of games and entertainment for children aged 3 to 13.
Karaland is located in the Armitage Golshan commercial office tower on two floors and in an area of ​​nearly 1000 meters. In this collection, you can see various job titles such as medicine, dentistry, banking, driving instruction, beauty salon, supermarket, fire department, music academy.
In addition to the items mentioned in this collection, various other spaces such as cinemas, cafeterias, photography studios and the age of celebrations are considered for the use and welfare of children and their personal and professional experience.
The main purpose of designing and building such a complex, which is one of the best places of entertainment in Mashhad, in addition to entertaining children, is to acquaint them with important community jobs in the form of games, which can help children identify their talents, strengthen teamwork, experience costs and Income, personality independence, social communication and other important things help.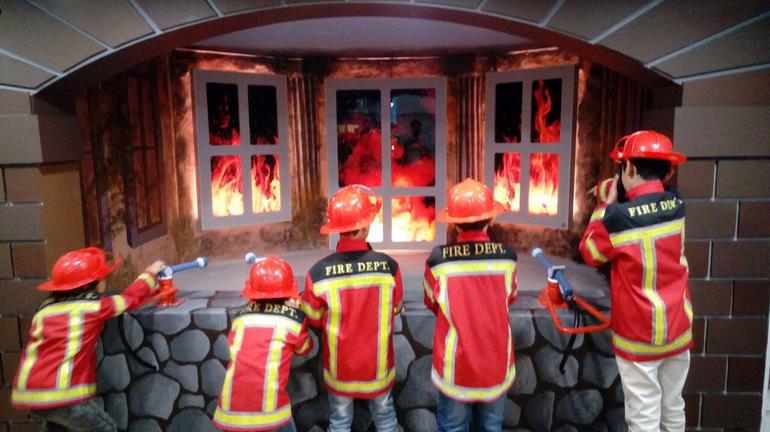 Address: Holy Mashhad, Haft Tir Boulevard, corner of Golshan Street, Golshan Armitage Tower, third floor
– Helium Park, Mashhad
Mashhad Helium Park is the first trampoline or jumping park in the country. This park is located in two halls of 1500 meters on the 4th and 5th floors of Goharshad Pearl Tower in Mashhad and will undoubtedly bring you one of the most exciting and enjoyable experiences from the recreational places of Mashhad.
This different park is built on two separate floors, one for women and the other for men. Of course, in order to be able to use both floors, even women use the 5th floor and men use the 4th floor, and individual days are the opposite.
The ocean-themed Hall A has a variety of exciting areas for children and adults to play, including volleyball, basketball, rock climbing, ninja courses, gymnastics and free jumping.
In Hall B, which has a green and forest theme, there are exciting games for children and adults, including football, airbags, basketball, dodgeball, billiards and kickball. Both floors have a coffee shop.
There is also a section called VR games on each floor, which has the latest virtual reality gaming equipment and can be enjoyed. Each floor is designed so that from 1 year old child to 70 year old adult can use the available facilities and experience happy moments with family members.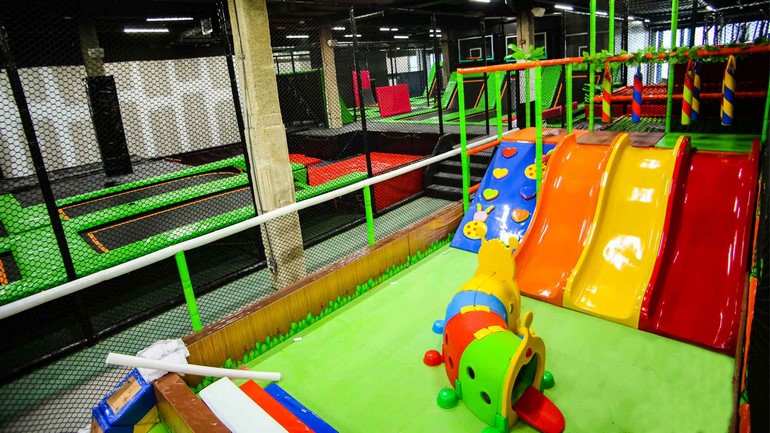 Address: Mashhad, Janbaz Boulevard, between Janbaz 5 and 7, 4th and 5th floors of Morvarid Commercial Tower.
– Panda Club Cultural and Sports Complex
Panda Club is the first specialized indoor complex for children in Mashhad and the largest indoor cultural, entertainment and children's sports complex in the east of the country. All play equipment in this collection is designed according to the physical, mental and educational development needs of children.
This club was established in 2011 with 17 separate game stations. The playgrounds of this complex include rock climbing, archery, handball, trampolines, suspension stairs, car racing, canoeing, darts, ball sports and indigenous games.
The games in this club can be of great help in identifying children's talents and developing their sensory-motor skills according to their age.
Painting, handicrafts, brain games and Lego workshops are other stations in the collection that help children get acquainted with art and the formation of ideas and their intellectual skills.
Other facilities at the club include free private parking, free internet, coffee shop, children's book booths, brain teasers and a buffet.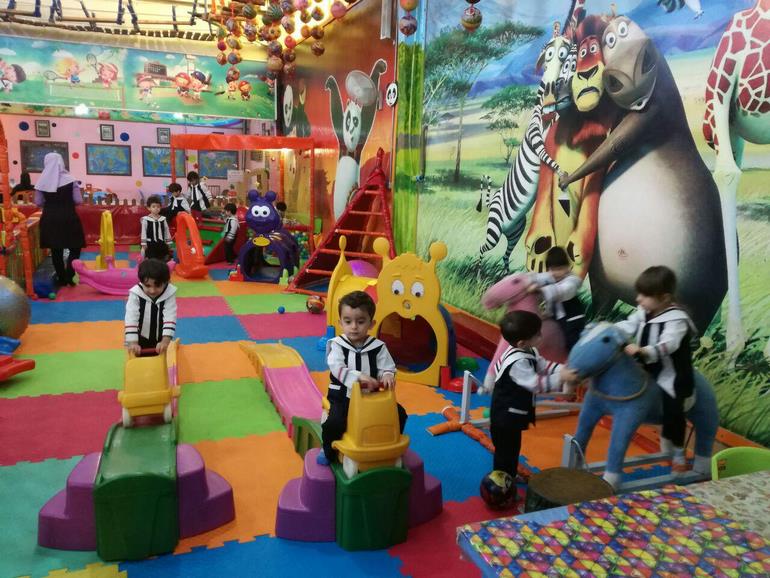 Address: Mashhad, Vakilabad Blvd., Shahid Sayad Shirazi Blvd., Sayad Shirazi 18, Panda Club
– Padideh Shandiz Entertainment Complex
Shandiz is one of the beautiful tourist and summer cities of Mashhad, which is located 30 km from this city and is located in a clear valley among dense trees and unique climate.
Almost all Iranians have heard of Shandiz. A modern and huge recreation and tourism complex built on the main road of Shandiz, with an area of ​​506,000 square meters, is one of the largest and most stylish shopping centers in Iran.
The construction of this huge project began in the 1980s with the aim of developing tourism in the east of the country and was supposed to become a dream city, but due to violations and financial problems of its builders, the construction of this complex was delayed.
But in any case, Padideh Shandiz entertainment complex is undoubtedly one of the best entertainment places in Mashhad and the country, and facilities such as water park, cultural complex, five-star hotel, flower garden, shopping center, office complex, residential apartment complex, indoor playground, The commercial complex includes hypermarket hypermarkets, clothing stores, ice skating rinks, restaurants, coffee shops, fast food and many other facilities, and you can create a memorable and memorable day in this stylish place.
Padideh Shandiz restaurant is also located near this complex.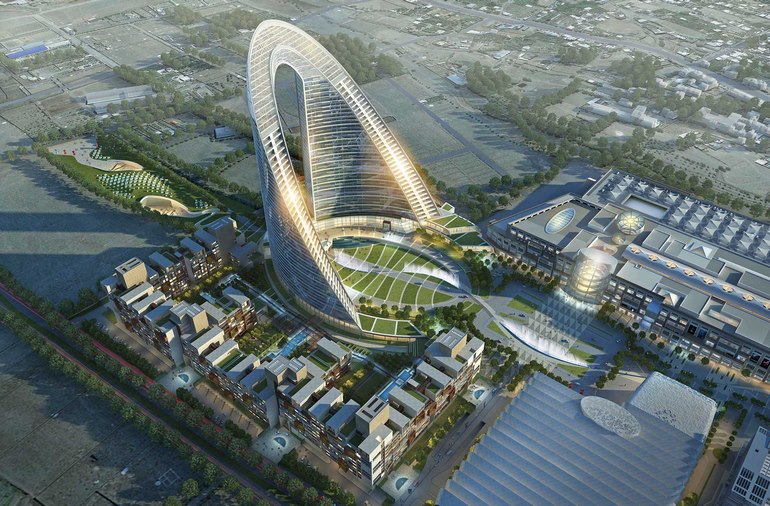 Address: Padideh Blvd., Shandiz city, Mashhad
– Mashhad Happyland Amusement Park
Happyland Amusement Park in Mashhad is a recreational and indoor space that is the closest place of recreation and entertainment to the holy shrine, which is located in the Armitage Tabarsi commercial complex. This entertainment place has 50 various and fun games and all the facilities and equipment used in this center are advanced and up to date.
Exciting and entertaining games of this amusement park, 7-dimensional cinema, percussion machine, billiards, rock climbing, adventure games, wrestling, carousel, train, helicopter, simulator, darts, handball, archery, Angry Bird, PlayStation and Xbox.
Features and facilities of this complex include its indoor area, 2000 meters, proximity to the holy shrine and the existence of various games.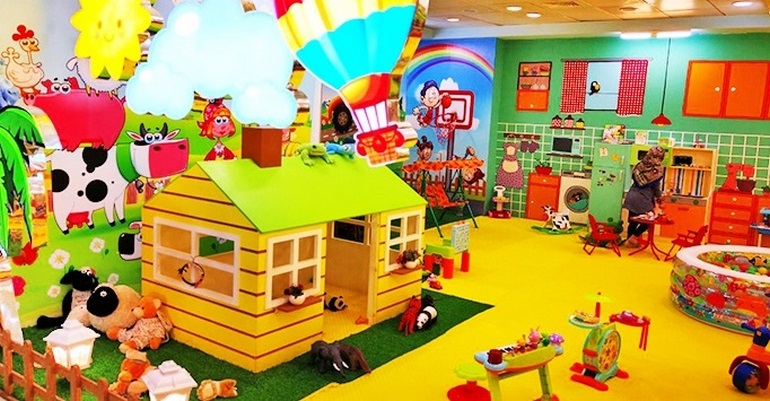 Address: Mashhad, Armitage Commercial Complex, Happyland Amusement Park
– Wonderland East Diamond Shopping Center
Almas Shargh Commercial Complex is one of the best and most beautiful shopping centers in Mashhad and almost all travelers and pilgrims in Mashhad visit this shopping center. Wonderland is an indoor amusement park located on the third and fourth floors of the complex.
When visiting the East Diamond Shopping Mall, the best time to visit Wonderland can be a fun and exciting pastime for your beloved children.
This amusement park is one of the safest amusement parks in the country and its prominent features can be divided into four seasons due to its indoor, high standard and safety, unique and professional design, existence of standard and advanced foreign devices, obtaining technical and safety approval. From Mashhad Municipality Safety Services Organization, in-service training of personnel on a periodic basis, complex hygiene and daily cleaning of game machines and the existence of games and entertainment for all ages were mentioned.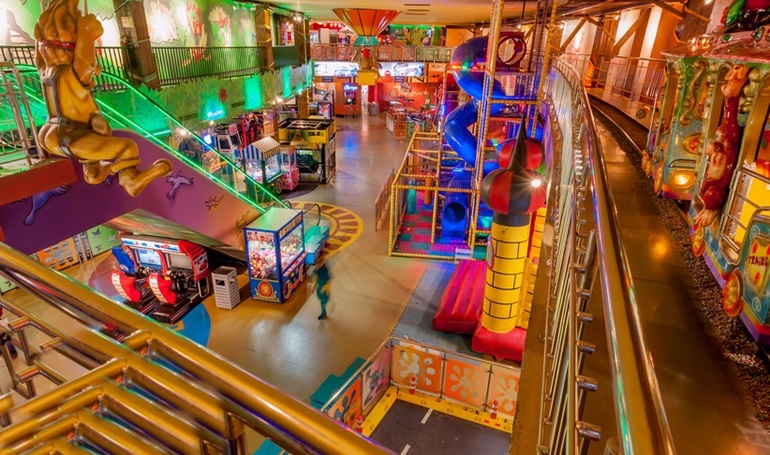 Address: At the end of North Khayyam Boulevard, East Diamond Tourism Commercial Complex, third and fourth floors
– Diorama; The first three-dimensional gallery in Iran
For nearly 50 years, with the advent of television, the 160-year-old French city has gone down in history, a portable display device that has its own charms and charms.
Undoubtedly, one of the most different and attractive places of entertainment in Mashhad is the Farang City Gallery in Mashhad. This gallery, as the first three-dimensional gallery in Iran, was built in 2014 in Kuhsangi Park in Mashhad.
Shahrfarang Gallery has been able to get a lot of views and attract many interested people by displaying 3D images in a special and unique way.
For example, it has an unprecedented record of 250 visits in one day. The exhibition of the works of the Farang City Gallery is such that everyone can visit it, and this visit is not for a specific group. It also has no restrictions for anyone and is the only non-closing gallery in Iran.
The quality of the images in this gallery is so high that one feels like he is in the place of photography. This gallery has been welcomed with the aim of displaying beauties in a new and worthy style and promoting tourism.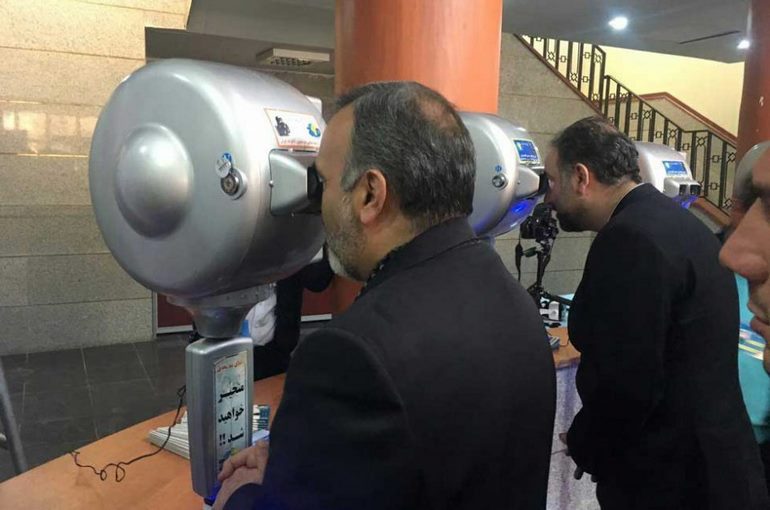 Address: Mashhad, Kuhsangi Park, east side of the central pool, Farang City Gallery
The land of endless beauties of East Iran
Together, we studied and analyzed the recreational places of Mashhad and realized that without a doubt, Mashhad can always be the first choice of every Iranian for pilgrimage and tourism. Countless natural and man-made recreational and tourism places, which are not all and meet all the recreational needs of each family.
From beautiful and pure forest and natural parks to villages and temperamental summers, from exciting amusement parks and stylish and modern shopping malls to exciting recreational-sports places, mountains, valleys, plains and beautiful waterfalls that can be seen anywhere. Polish every passenger.
If you are also attracted to the sights and entertainment places of Mashhad, contact Alibaba experts to book a tour or ticket. Our consultants can help you in this way in the best possible way.