You have probably heard the name of Tabriz Goli tribe before, or when you enter Tabriz with your personal car, you have seen its name on various signs all over the city. Il Goli can be considered a symbol of the city of Tabriz, a symbol that if you do not have a true and complete picture of it, you will never fully understand the hidden aspects of its charm and beauty.
This monument was registered in the list of national monuments of Iran in 2008. If you look at the photo of Il Goli from above, you will see a mansion that looks like an island in the middle of a very large pool. The Goli tribe of Tabriz is located in the southeast of Tabriz, 7 km from the city center, and in addition to the recreational, cultural and welfare facilities it offers to visitors, it has a very suitable geographical position compared to other places of interest in Tabriz.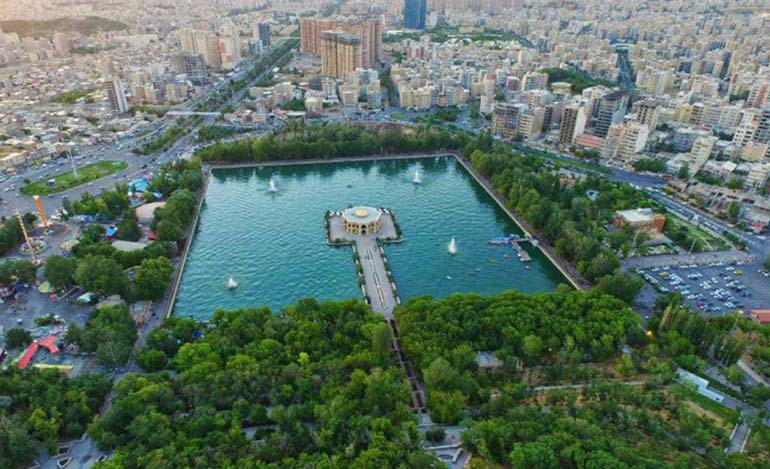 Many things are not as close to the ground as they should be, you might say at first glance why This building is one of the most important sights of Tabriz. In this article, from Iranviva Tourism Magazine , we will fully introduce you to Il Goli Park in Tabriz, different parts of Shah Goli, entertainment And we will describe its amenities. Knowing more about the details will help us to visit the sights in different cities with more appreciation and appreciate our moment by moment.
Il Goli is one of the sights of East Azerbaijan province, which is located in Tabriz.
The dimensions of the Il Goli pool in Tabriz have changed from the past until now. At present, Goli is a pool with dimensions of 200 meters by 200 meters and its depth varies between 3 to 12 meters in different sections.
Il Goli has recreational facilities such as cycling, carriage riding, boating, mini-golf, restaurants, food stalls, suitable camping space and more.

Il Goli Or Shah Goli?
Probably, if you ask the people of Ail Goli Park in the streets of Tabriz for the address of the city, you will find that people refer to this park by the two names "Il Goli" or "Shah Goli". Now which one is really true?
If we are going to talk about the Goli tribe of Tabriz, it is better to know the meaning of this Turkish name first of all. In Turkish, the word gul (lake) means lake or pool, and the word "ail" means people.
Il Goli means Lake of the People and Shah Goli means Shah Lake. During the Pahlavi era, this building became a public promenade known as Shah Goli, but in 1978, after the Islamic Revolution, its name was changed from Shah Goli to the Goli tribe of Tabriz.
Some old people of Tabriz still call it Shah Goli according to the old custom. Of course, Mr. Behrouz Khamachi, one of the researchers of the history and culture of Azerbaijan, believes that the word Shah in the name of this building means great and majestic, and the word did not mean the Shah himself.
Different sections of Il Goli Tabriz
The Goli tribe of Tabriz has violating sections in the fields of welfare, recreation and tourism. In general, this complex consists of two main parts of the Il Goli pool and its mansion, which we will introduce to you in the following sections. It is good to know that contrary to the information recorded on various sites, Il Goli has no zoo.

Il Goli Lake, a lake for all Chapters
The history of Tabriz Il Goli Lake dates back to the Agh-e-Quyunlus era. At that time, the lake was a space for storing water and a source for irrigating the surrounding areas, which has changed during different periods and has become what it is today. During the Safavid period, after emptying the garbage of the lake and cleaning it, stone walls were built around Shah Goli Lake.
The depth of the lake at that time was about 12 meters. During the Qajar period, streets were built around Ail Goli in Tabriz and became more beautiful with the planting of Tabriz trees, crazy willow and colorful flowers. During the Pahlavi era, the use of this lake changed to a public and local promenade for walking, which is now one of the most important sights of Tabriz with an area of ​​nearly 200 meters by 200 meters, with a depth of 3 to 9 meters. >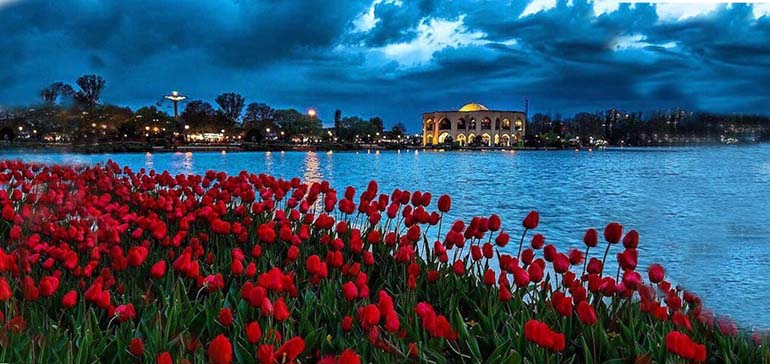 The water of Il Goli Lake in Tabriz is supplied by the stream of Liqvan River and the area around the lake has become more attractive with forestry and artificial waterfalls. The street that stretches from the south side of the lake to the palace building has turned the Ail Goli building into a spectacular peninsula in the open waters.
The beauty of this lake is doubled in spring by the reflection of the surrounding green trees in the lake water and in winter by the freezing of the lake water and the snowy atmosphere of Tabriz. The fact is that no matter what season you visit this spectacular place, Ail Goli Park has its own beauty in every season.

Ail Goli Mansion
Dar Daroodakht street in the middle of Shah Goli lake is a way that takes you to Ail Goli mansion in Tabriz. The building of the mansion, like Lake Il Goli, has undergone many changes over the years. This building, also known as Ail Goli Palace, was originally a one-story brick building built during the Aghquyunlu period.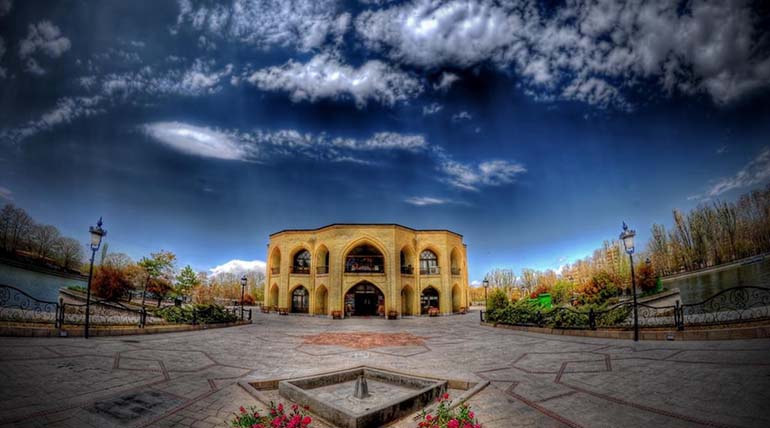 Il Goli mansion was expanded during the Safavid and Qajar eras and underwent fundamental changes, but finally due to excessive wear, in 1346 AH by Tabriz Municipality Demolition and a new building replaced it. The new Il Goli mansion is a two-story octagonal building designed and built by Haj Ali Al-Akbar Nader Al-Wujud. This mansion is currently used as a reception hall and restaurant.
Il Goli Park Thought Hall
Andisheh Hall in Ail Goli Park in Tabriz is another different part of the park. With a capacity of nearly 330 people, this hall, along with complete facilities and equipment, including an advanced audio and video system, is a suitable place for holding conferences or scientific and cultural programs. Andisheh Hall is a regular and tidy hall which, in addition to the above facilities, has a quality cooling and heating system.
entertainment Il Goli
Shah Goli is not just a place of interest, although many tourists visit it to visit the lake and the palace of Ail Goli, but Il Goli is a good place for various entertainments. We will introduce you to some of the fun entertainments in this series.

Boating in Il Goli
In spring and summer, when the weather is good and the water of Il Goli Lake in Tabriz is not frozen, there is a possibility of boating for visitors. Boating is possible with pedal and motor boats. We suggest you do not miss the opportunity to go boating in the cool weather of Tabriz.

Mini Golf Ail Goli
One of the special entertainments that exists in Il Goli Tabriz and is considered a unique experience is the mini golf sports complex of Ail Goli Park in Tabriz, which is located near the Park Hotel. This complex is one of the standard golf courses in Iran, which is the venue of many provincial competitions and games. There is a cost to using a mini-golf set, and in addition, make sure you have enough time to play.
Il Goli cycling route
In the Goli tribe of Tabriz, different cycling routes have provided access to different parts of the park for cyclists. If you are a cyclist, you can have a good time in Ail Goli Park and enjoy cycling safely.

All visitors can ride the carts of Tabriz Goli for a fee. Riding a carriage around the lake will give you a good feeling with the rhythmic music of horses' hooves and carriage bells.
Luna Park Il Goli
Luna Park, Il Goli, Tabriz, is located in the west of the lake. This amusement park has a variety of games to spend an exciting evening. Among the Luna Park devices, the following can be mentioned:
Salto
Chain twist
Air train
Electric Machine
Carousel
Note that Luna Park is currently closed due to safety reasons and cannot be used.

Features of Park Il Goli
Considering that Tabriz Il Goli Park is one of the most important recreation and tourism centers in Tabriz, naturally it should have sufficient amenities for the comfort of tourists. These amenities include a car park, a restaurant and a shop, several drinks in the park, a bathroom, a prayer hall and free internet. Il Goli Park in Tabriz is the first park in the world to have free wireless internet.
Tabriz Il Goli Park is one of the few parks in Iran that provides free wireless internet (WiFi) to visitors .
Parking
If you use a personal car to visit the Goli tribe of Tabriz, you do not need to worry about parking space. This park has a parking lot and its cost is 3000 Tomans for each car.
Toilet
Other facilities of Shah Goli Tabriz include its health service, which is available to visitors by observing cleanliness and hygiene tips.
Tabriz Cement Collection
Saiman Tabriz Complex is one of the most important recreational and sports complexes in Tabriz, which is located near the Goli tribe of Tabriz and can be considered as part of the facilities available to Shah Goli.
This complex has a standard and luxurious sports space for sports such as skating, hockey, table tennis, climbing and.. Saiman complex has different sections such as restaurant, coffee shop, sports equipment store and که which completes its facilities.

Il Goli Sun Clock
One of the sights of the Goli tribe of Tabriz is a large sundial that is located in its space. This is the largest sundial in the northwest of the country that is available to visitors.

Access to Il Goli Tabriz
Access to Tabriz Goli tribe is possible both by private car and by public transport.
If you use a personal car, you can take the Bakri Highway and Il Goli Boulevard to El Goli or use the Golestan Street, Ferdows Square. Of course, if this description is not enough for you, you can easily find the address with the help of Il Goli location on Google Map.
Access to Shah Goli is possible by public transport, including subway, taxi and bus, which we will provide details about each in the following.
Taxi: Il Goli linear taxis from different parts of the city take you to Ail Goli Park, you can also use the online taxi service to visit the park.
Bus: If you use the bus to reach Il Goli, you have to take the buses of Il Goli route to 101 and get off at the nearest station to Il Goli.
Metro: Il Goli metro station in Tabriz metro lines is one of the easiest ways to reach this park. All you have to do is take the subway and get off at this station and take a short walk to Il Goli.
Tabriz Goli Address: East Azarbaijan, Tabriz, South Tabriz Bypass Freeway, Il Goli Boulevard, Ail Goli Park
Contact number: 33849904-041
Working hours of Tabriz Goli tribe: 24 hours a day
Ail Goli location on Google Map

Visit the lovely symbol of Tabriz
Now we can say with confidence that you know everything you need to know about visiting the Goli tribe of Tabriz. Ail Goli of Tabriz can be registered in the UNESCO World Heritage List due to its special features, but due to the construction of a tall hotel building near Shah Goli, the opportunity to register it in this list was lost. There are various recreational and tourism facilities in the space of Il Goli Park, which, like many places of interest in Iran, have not been used enough, but visiting it will definitely be a unique day experience for any visitor. A pleasant combination of spectacular scenery, pleasant weather and pleasant pleasure.