You must have heard the name of Sarein city many times until today; But have you ever traveled to this wonderful city? Do you know anything about the amazing properties of fast hot springs? Have you experienced the joy and tranquility of staying away from the excitement and relaxing in the hot springs?
In this article, we will introduce Sarein hot springs. We talk about their healing properties to the facilities offered in each of the city's hydrotherapy complexes. Join us to get acquainted with the healing properties of the hot springs of these springs, so that you can choose the best complex for your possible future trips according to your criteria.
Royal Park Hotel, Kahveh Sooi, Shahr Aftab, Iranians, Sabalan and Bash Bajilar, all of which we have introduced in the article.
Coffee and buffalo hot springs are among the oldest and most water-rich hot springs.
Each of the fast spas has different properties according to their constituents. But in general, sedation and relief of nerve, rheumatic and joint pains are among the common properties of all of them.
Ardabil province, Sarein city, Valiasr street
Royal Park Hotel hot water
The healing properties of the hot springs, along with the tranquility they bring to people, led to the opening of the Royal Park Hotel in early 1997, next to one of the fastest hot springs, the mud buffalo. This complex is one of the largest hydrotherapy complexes in the Middle East and the first Iranian member of the World Water Treatment Association.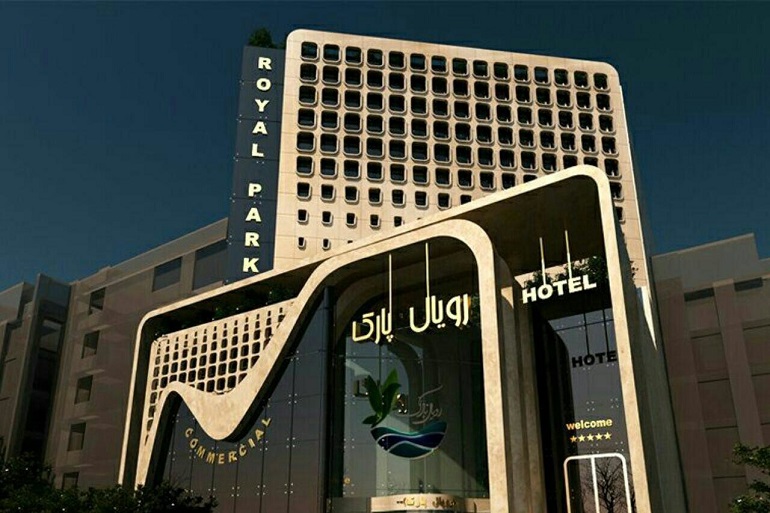 Royal Park Hotel consists of a luxurious four-star hotel with VIP units, restaurant, barber shop, children's playroom and a well-equipped gym. It also has 13 private and public swimming pools, with spa, recreational and children's pools available separately.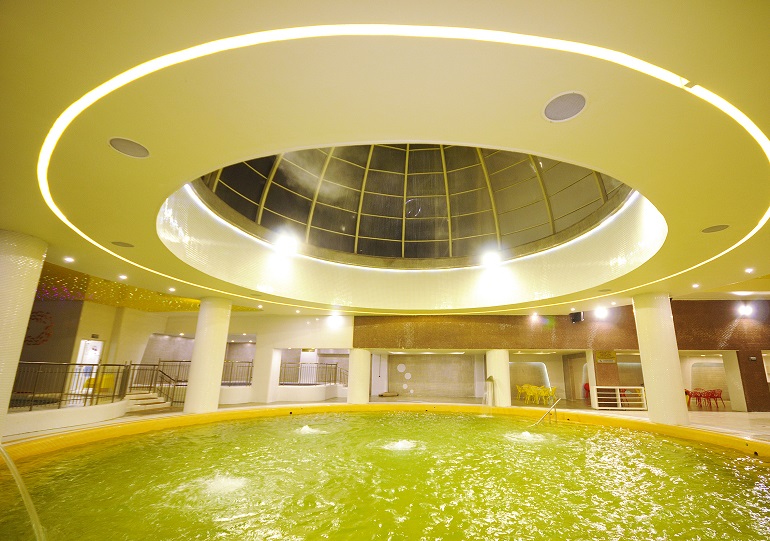 In addition to these items, relaxation facilities and services such as relaxation cave, Turkish bath, hot and cold sauna, relaxation stone and massage room It is offered for guests to experience a pleasant and relaxing stay.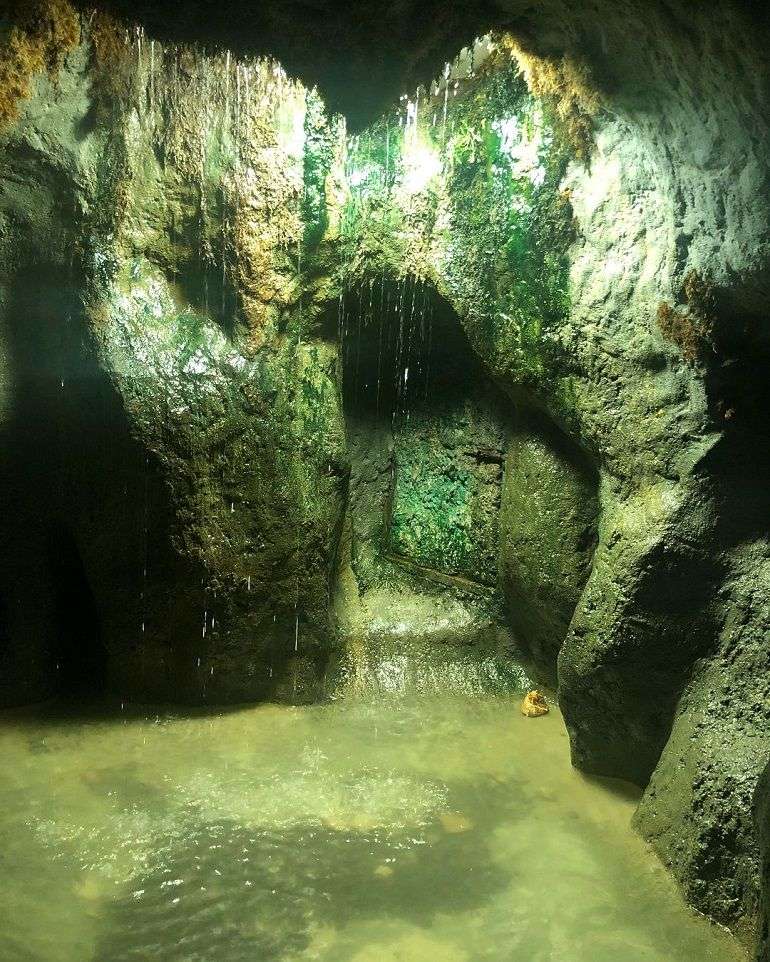 It goes without saying that the rooms of this four-star hotel also have facilities such as a bed, sofa beds, furniture, smart TV, There is a dressing table, minibar, heating and cooling equipment, bathroom and hairdryer, and a Persian toilet.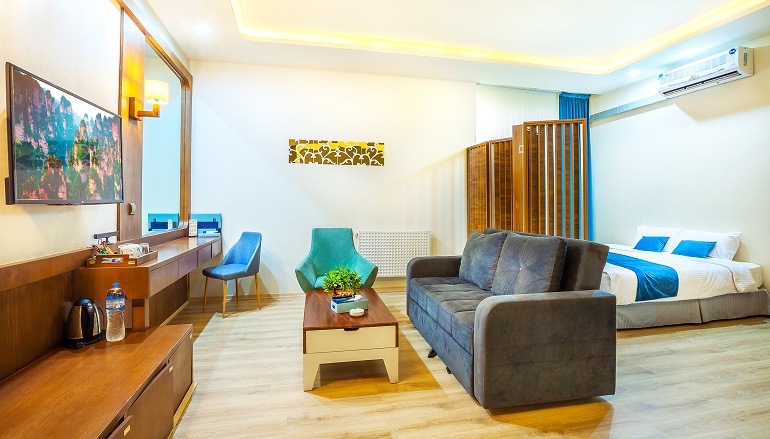 In general and by default, in this collection, the best hydrotherapy and spa services have been tried using the latest methods in the world in space. Provide guests with a relaxed and stress-free stay for a pleasant stay near Sarein hot springs.
Sarein hot water coffee treatment complex
Coffee Sui Complex is one of the hot springs of Sarein and is located in Taleghani Street of this city. This complex is one of the oldest hot springs in Sarein, which is mentioned in historical books as "Yaghoub Coffee House Fountain" and was rebuilt in 1987 by Sarein Coffee Investment Company.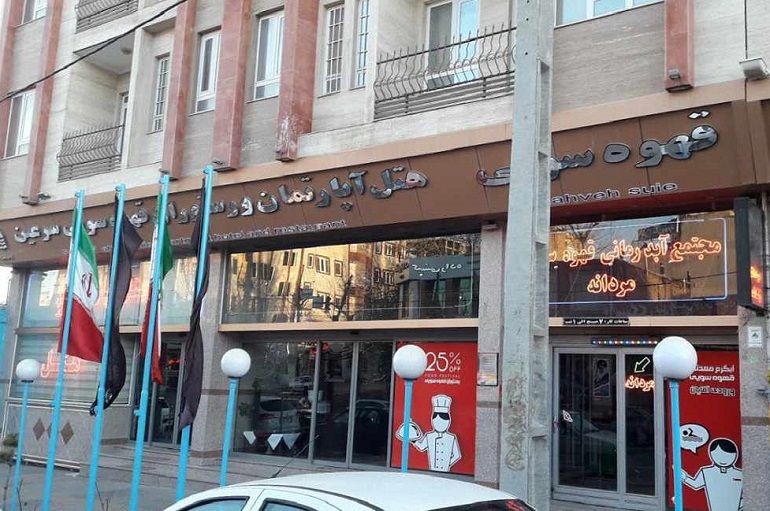 The newly renovated building consists of three phases. The first phase has separate hydrotherapy for ladies and gentlemen with hot tubs, saunas, Jacuzzis and individual showers. The second phase is eye water or cold water, which has special healing properties, and the third phase is a three-star hotel that includes a restaurant, conference hall, multi-storey car park and physiotherapy halls.
Hot water has many healing properties; But the cold water of the coffee-drinking water treatment complex has different healing properties, including washing the eyes with the water of this spring, which disinfects the eyes. Also, due to the presence of bicarbonate compounds in this water, eating it eliminates kidney stones, relieves stomach and improves liver function.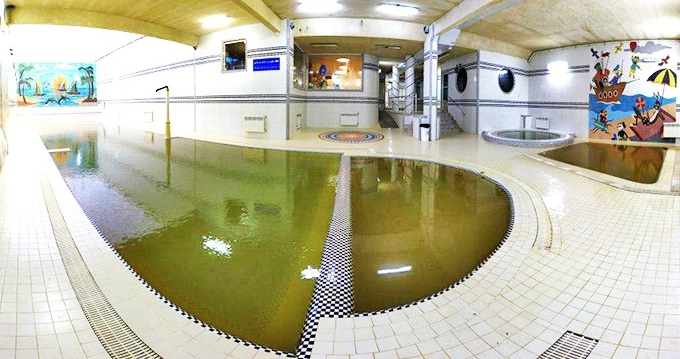 According to the manager Sarein Coffee Complex, the hot spring of this complex with a temperature of 44 degrees Celsius and cold water with a temperature of about 20 degrees Celsius, are located at a distance of 10 meters from each other, which is considered an interesting phenomenon and a wonder of creation.
It is good to know that higher water temperature than body temperature has strengthening, invigorating and empowering properties. In addition to its high temperature, Coffee Soy hot water is in the group of carbonated calcium bicarbonate chlorinated waters containing iron deposits, which have a significant amount of silica, and the healing properties of such hot waters are relieving joint pain and soothing baths in it. And dilates blood vessels.
Aftab Water Treatment Complex
Let's go to one of the most luxurious Sarein hydrotherapy complexes. Shahr-e-Aftab complex has been built next to one of the Sarein hot springs in Darreh Salamat or Pahnloo valley. This complex is designed based on two phases, the first phase of which is currently used in four floors and the second phase has not been built yet.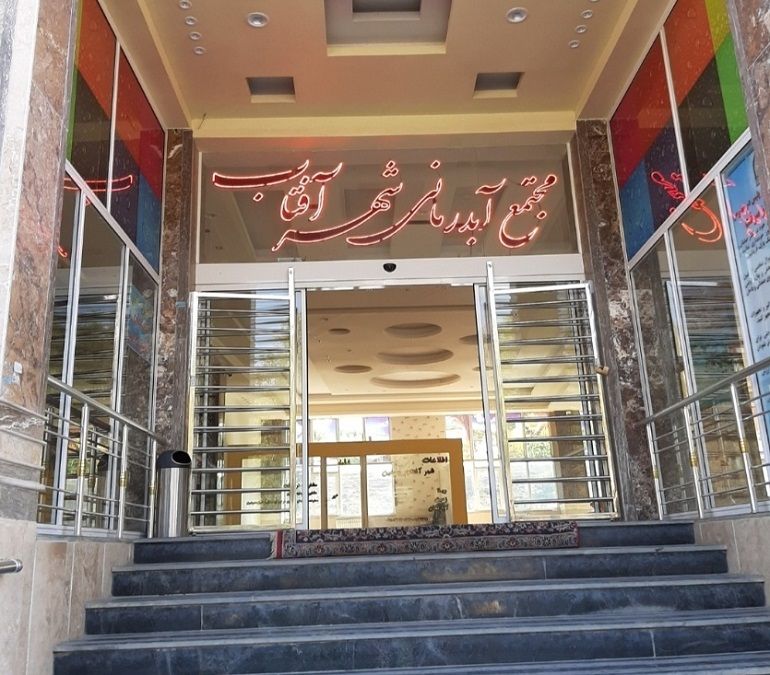 The first floor of this complex has four different uses, including an adult pool, a children's pool, a steam and dry sauna, Jacuzzi, cold water tunnel, massage section (with a variety of Swedish, Thai and Californian massages), water shower and locker room. All these services are offered in the upper classes of this complex as VIP.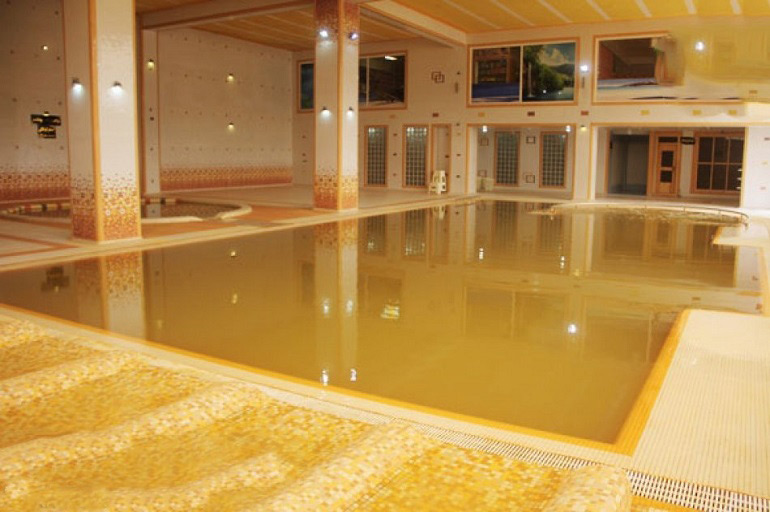 After an arithmetic game, it is the turn of the second floor of Shahr-e-Aftab complex to visit its coffee shop and Complete your therapeutic tour with delicious drinks and snacks. Of course, you can also go to the fourth floor and enjoy the delicacies of a family restaurant or a traditional dining room.
In this collection, all the equipment related to hydrotherapy is available in one store, and if necessary, you just need to get to the third floor. In addition to all this, the manager of the complex on the second floor is ready to hear your comments, criticisms and suggestions and the working hours of the complex are from 8 am to 12 pm.
Sabalan Sarein hydrotherapy complex in Sarein hot water
Sabalan Complex is one of the largest and most popular hydrotherapy complexes among Sarein hot springs. This complex was built in 1974 on a land area of ​​7200 square meters in the city of Sarein and in two separate floors for men and women.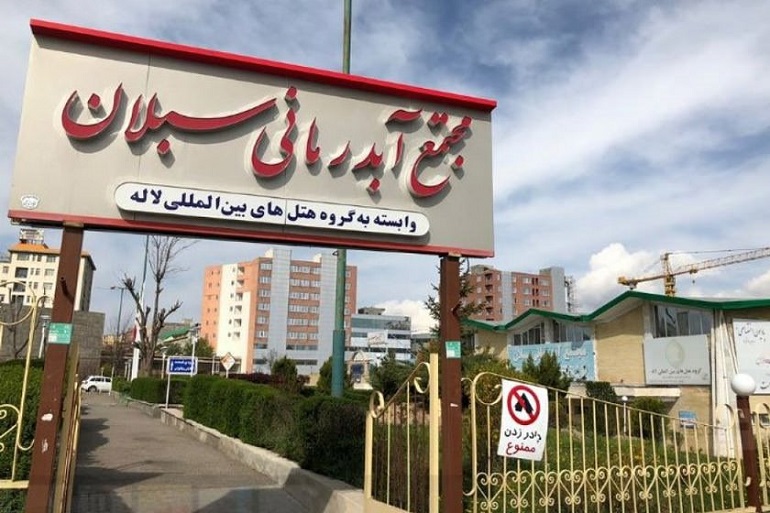 In Sabalan complex, like other hydrotherapy complexes, facilities such as swimming pool for adults and For children, dry and steam sauna, Jacuzzi, cold water pools, physiotherapy, massage therapy, buffet and restaurant are offered; However, the presence of green space, parking lots in the north and south of the complex, prayer hall, coffee shop, waiting room, salons for foreign tourists and various cosmetic stores, has had a great impact on the popularity of Sabalan water treatment complex among tourists.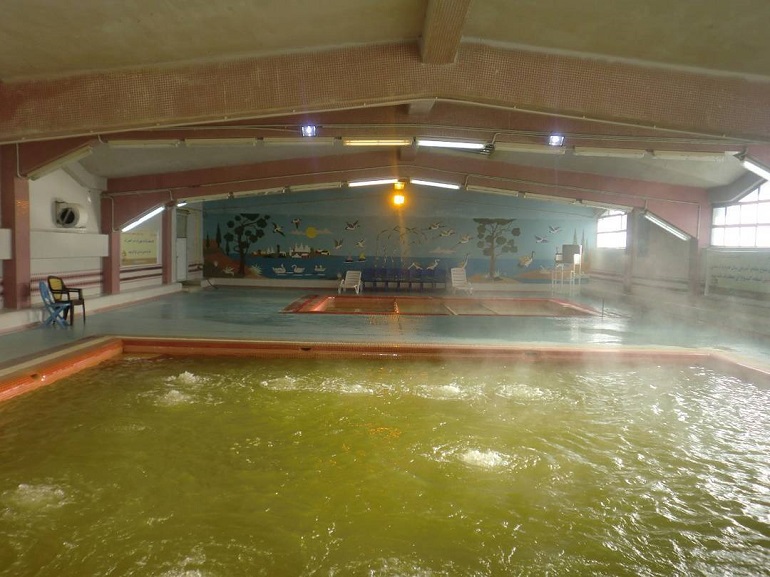 Cheshmeh Sabalan is one of the most famous hot springs that has various healing properties for pain. Joints, skin diseases, rheumatism and muscle spasms. The presence of quality purification, disinfection and dehumidification systems in this complex has made everyone, even those with respiratory and heart diseases, have a better experience of fast hot water.
Hot water Bash Bajilar
Among the rapid hot springs that boil from the heart of the earth and have amazing healing properties, we go to one of the oldest springs, the Bash Bajilar hot spring, whose old name was Larsavi Valley; A lush valley full of sycamore and poplar trees. Later, it became known as Bash Bajilar or the Five Sisters because its water boiled in five different places at the spring.
Rapid hot water is a type of chlorinated water, magnesium, sodium, sulfate, calcium and carbonated calcium bicarbonate are very hot and are rich in silica. Among the properties of fast hot springs are sedative and relieving effects on nerve, rheumatic and joint pains. Of course, Bash Bajilar hot water is a bit cloudy, smelly and sour in taste, which may make you hesitate to use the pool, but do not ignore the amazing effects of this water.
Pool water The hot springs of this complex use Bash Bajilar springs, its shower hot springs use mud buffalo springs and its cold water uses the city's tap water. So if you do not want to use the pool, you can just take a shower and not be deprived of the properties of the spa.
Iranian Water Treatment Complex
At the entrance of Sarein city, the first water treatment complex that shows itself is the Iranian water treatment complex. This complex has been built with the aim of providing health tourism services near Sarein hot springs, which in addition to hydrotherapy, has also provided exciting recreational facilities for its customers.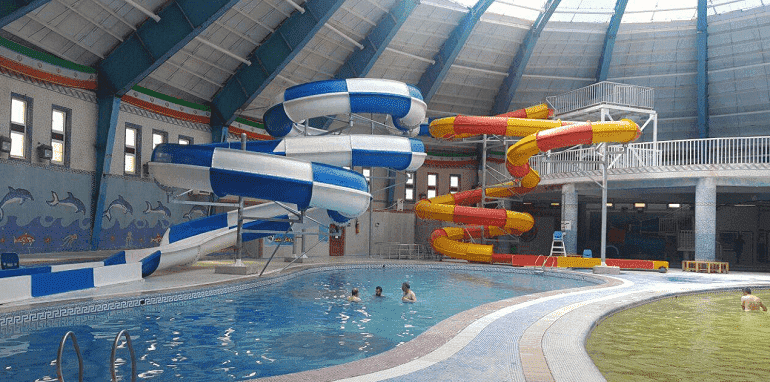 In this complex, in addition to the healing springs and swimming pool for adults and children, there are attractive water slides that help you along Experience the healing properties of hot water and experience happy moments there.
Facilities and services such as steam and dry sauna, Jacuzzi, massage parlor, air conditioning and disinfection system, Turkish bath, salt sauna and gym are also offered in this complex.
General hot water in fast hot water
During the First World War, when the Russians came to Azerbaijan, one of the Russian generals who was wounded in the war, during his stay in the region, treated his wounds with a hot spring near which later the general hot water. Named.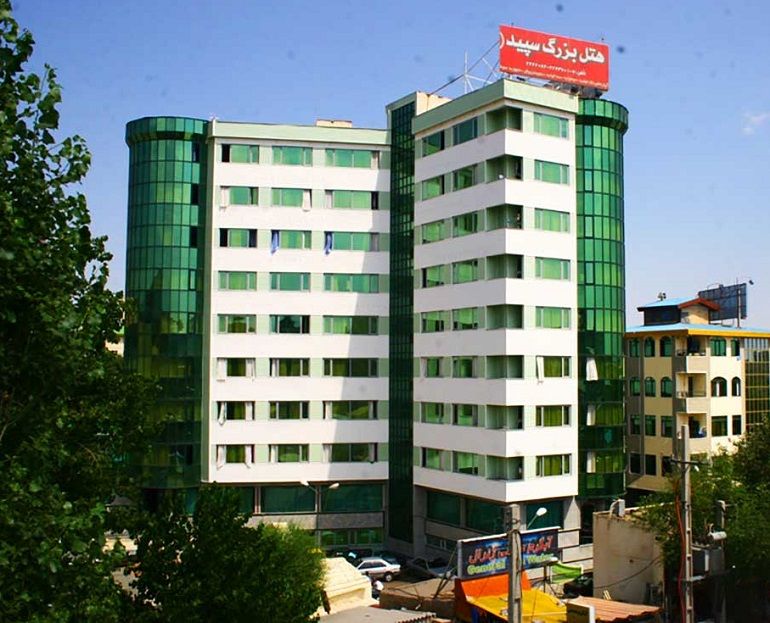 General Spa One of the most important springs of Sarein has many healing properties and is part of the White Apartment Hotel. This spa comes out of the bottom of a pool that is 44 degrees Celsius, colorless and acidic, and has a sour taste.
General hot water is useful for relieving muscle, joint, rheumatic and nerve pains, and this hydrotherapy complex consists of two separate sets for men and women. Like other hydrotherapy complexes, facilities such as swimming pool, dry and steam sauna, Jacuzzi And has a buffet.
warm water buffalo
Among Sarein hot springs, Goli Buffalo Spa is one of the warmest, richest and most water-rich springs that has many healing properties for skin and bone diseases, and all these cases have attracted many tourists.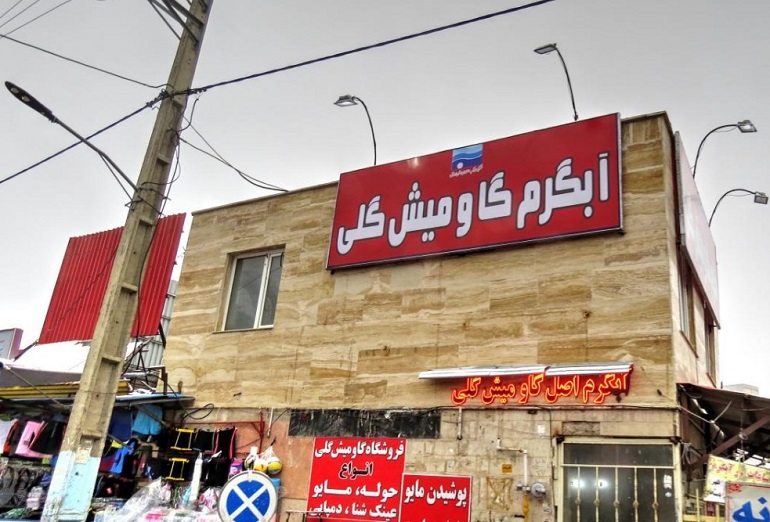 This water has a temperature of about 46 degrees Celsius, which swimming, massage and exercise in large volumes, reduces diseases such as rheumatism, muscle pain, cardiovascular disease, fatigue, physical stress and gynecological diseases.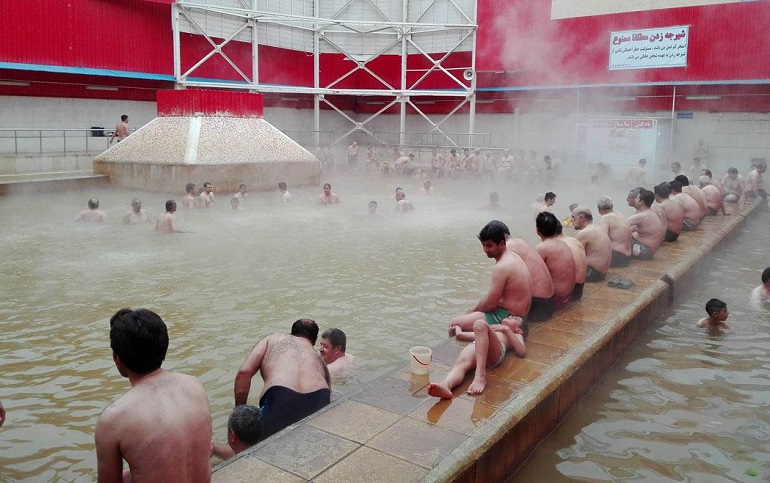 Like many fast springs for which there are special reasons for naming them, according to the locals, the buffalo mud spa is also due to the accumulation of cows. Who used to come around the spring to rest and sometimes bathe in it, is named after it.
Finally, it is good to know that this spa, unlike other hot springs, is fast, old and open, and unfortunately, due to its age and lack of care, it does not have special amenities.
Heating hot bath
In 1343, and at the same time with the visit of the then Prime Minister Amir Abbas Hoveyda to this region, Sarein Healing Bath was built with the aim of modernizing Sarein hot springs.
After the construction of this bath, the people and travelers welcomed the bath with this structure, which eventually led to the construction of modern spa complexes in the city.
The water of this bath is supplied from a high-yielding spring that has a cloudy, sour, colorless and odorless appearance. Its important anions and cations are bicarbonate, chloride, sodium and calcium and this water is used to treat joint pain, relieve neurological diseases and skin diseases.
Arjestan mineral water in Sarein hot springs
At a distance of 21 km from Sarein, there is a village called Arjestan, which is one of the natural attractions of Ardabil province. There are many mineral springs in this village, which are famous for their unique properties in treating various diseases.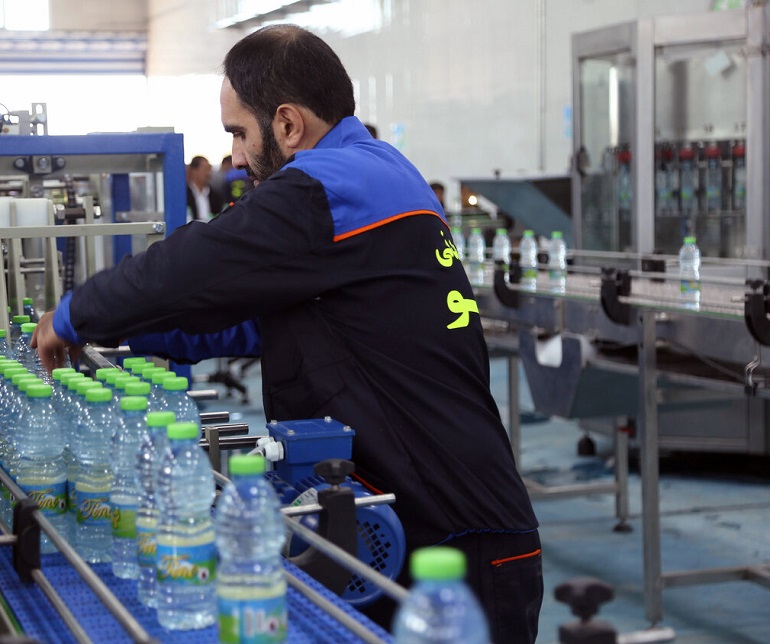 Arjestan mineral water boils from the heart of the earth at a temperature of about 10 to 15 degrees Celsius and because it is odorless, carbonated and They have an astringent taste and are used as useful drinks.
The mineral water of Arjestan springs is used in two ways. In the first case, this water is supplied, packaged and supplied by factories around the village, such as Mes Kuh, and in the second case, it is used by locals and tourists as permanent springs, on the appearance of which an indoor cement pond is built.
Other Sarein hot springs
In addition to all that we have described, you may quickly hear the names of other spas that you should be familiar with:
Panhloo Spa: The center and driving force of the complex and Ershad Sarein Hydrotherapy Hotel is among the springs of Panhloo Spa. The complex consists of two three- and four-star hotels, offering all hydrotherapy services including a dry and steam sauna, a Jacuzzi, a water bike, a Turkish bath and a hot waterfall.
Sari Su mineral water: This hot spring is located in the center of Sarein city, the water temperature of which reaches about 47 degrees Celsius. Its water color is pistachio green and slightly fragrant and has a sour taste. The cations and anions in this water and of course its healing properties are the same as other waters in the region.
Gozsui spring: Also known as eye water, is one of the phases of the Coffee Sui water treatment complex. As mentioned above, the water of this spring is used to treat eye diseases and is one of the fast hot springs that is very popular with tourists.
9 springs hot water: It is one of the new sets of Sarein hydrotherapy that uses the water of wide boiling springs. This complex, like other complexes, offers facilities such as simultaneous hot springs for ladies and gentlemen, sauna, Jacuzzi, cold water tunnel, etc.
Viladreh hot spring: It is located in a village of the same name, three kilometers from Sarein. The complex has two swimming pools, the water of which is carbonated, and tourists drink water in the hot pool due to its healing properties. Of course, it goes without saying that the water of Viladreh springs is basically cold and is heated by the engine room for bathing.
All that we said …
In this article, we explained about the types of Sarein hot springs and introduced the various hydrotherapy complexes of this city along with the facilities and services they offer.
In fact, in this article, we helped you to decide according to your own criteria that if you travel to Sarein, you would prefer to use a simple and intimate buffalo spa or go to luxury complexes that offer a variety of facilities and services.
Finally, we ask you to share it with us in Alibaba Tourism Magazine if you have interesting information or experience using Sarein hot springs.